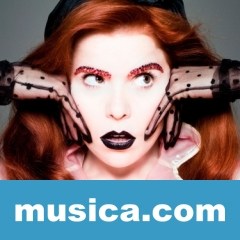 Biografía de Paloma Faith
Paloma Faith (Londres, 21 de julio de 1981) es una actriz y cantante británica de soul, soft rock y pop.
Índice
1 Inicios
2 Carrera
3 Carrera televisiva y cinematográfica
4 Discografía

4.1 Álbumes de estudio
4.2 Sencillos
4.3 Colaboraciones y apariciones

5 Premios y Nominación
6 Filmografía
7 Referencias
8 Enlaces externos
Inicios
Paloma Faith es hija de madre inglesa y padre español nacido en Hackney, Londres. ​ Se formó en varios campos artísticos: ayudante de espectáculos de magia, formación en baile contemporáneo, formación en artes plásticas, espectáculos de bailes y actriz.
Al inicio de su carrera musical comenzó versionando a los cantantes de blues y soul que ella admiraba, hasta que finalmente encontró su propio estilo vocal.
Carrera
La canción con la que Faith se da a conocer fue «It's Christmas (And I Hate You)», en un dueto con Josh Weller. En junio de 2009, actuó en vivo en el programa de la BBC Radio 2 Introduces..., donde le realizó su primera entrevista el presentador Dermot O'Leary. ​
Su primer sencillo «Stone Cold Sober» debutó en la posición 17 de la lista británica. A continuación, realizó numerosas actuaciones en festivales del verano del 2009.
Faith sacó al mercado su primer disco, Do You Want the Truth or Something Beautiful? en septiembre de 2009. Escribió las canciones del disco en Gran Bretaña, Suecia y Estados Unidos. Toda la grabación y postproducción del disco la hizo en Londres.
A comienzos del 2011, Paloma fue nominada para los Brit Awards como mejor solista británica junto a Cheryl Cole; ganó el certamen de artista mejor vestida de la premiación y actuó junto a Cee lo Green. Su segundo álbum musical, llamado Fall to Grace, que se publicó en mayo del 2012, fue reeditado en octubre del mismo año. El 28 de septiembre de 2012 fue lanzado su versión de «Never Tear Us Apart», original de INXS ​ ​ logrando el número 16 en el Reino Unido. En marzo de 2014, se editó su tercer álbum A Perfect Contradiction del que se desprenden sencillos como «Can't Rely on You» y «Only Love Can Hurt Like This» que logró ingresar en el top 10 de Nueva Zelanda, Reino Unido y en el número uno en Australia. Sin duda es el sencillo más exitoso en toda su carrera artística vendiendo más de 60,000 copias y consiguiendo 3 certificaciones de disco platino en Australia ​ y en los BRIT Awards 2014 obtuvo el premio a Mejor Solista Femenina Británica. ​ Ayudó profesionalmente a Lianne La Havas.
En junio de 2015, Faith confirmó que había comenzado el proceso de crear su cuarto álbum de estudio. Hizo referencia a Jimi Hendrix y Janis Joplin como inspiraciones para el disco. En agosto de 2015, se anunció que Faith se convertiría en entrenadora en The Voice UK. Además de su papel en el programa, Faith lanzó su propia compañía de gestión y publicación.
En agosto de 2017, Faith regresó con el sencillo principal "Crybaby" de su cuarto álbum titulado The Architect. El álbum fue lanzado más tarde en noviembre, debutando en el número uno en la lista de álbumes del Reino Unido, convirtiéndose en el primer álbum de Faith en la lista de éxitos del Reino Unido. Se han lanzado otros tres singles del álbum: "Guilty", "'Til I'm Done" y "Warrior". En febrero de 2018, Faith lanzó una colaboración con DJ Sigala, "Lullaby", que se ubicó en el número seis en el Reino Unido, convirtiéndose en su cuarto single entre los diez primeros como artista principal y quinto en general. Al mes siguiente, Faith cubrió la canción de 1960 "Make Your Own Kind of Music" de Mama Cass. Apareció en un comercial de televisión de Škoda, que se jugó durante todo el año, lo que provocó que la pista se ubicara en el número 28 en el Reino Unido. En noviembre de 2018, Faith lanzó una nueva edición "Zeitgeist Edition" de The Architect, con seis nuevas canciones que incluyen "Make Your Own Kind of Music", "Lullaby" y "Loyal".
En el 2019 volvió a participar en un comercial de Skoda cubriendo el tema "I've Gotta Be Me" de Sammy Davis Jr junto a varios artistas del Reino Unido, se anunció que reempalzará a Jessie J en The Voice Kids 2020 y en enero de 2020 se inicia el rodaje de la segunda temporada de Pennyworth.
Carrera televisiva y cinematográfica
En 2007, Faith apareció en un episodio del drama policial de la BBC HolbyBlue que retrata a un ladrón. También fue elegida como Andrea en St Trinian's en 2007. Faith también fue elegida en The Imaginarium of Doctor Parnassus de Terry Gilliam como Sally, la novia del Diablo (interpretada por Tom Waits) en 2009. También apareció en la película de terror Dread como Clara Thornhill. Más tarde protagonizó la serie Coming Up de Channel 4 y el cortometraje A Nice Touch. De obtener el papel, ella dijo: "No creo que supieran que era actriz. Fui a una audición y me dijeron que les gustaba mi interpretación del personaje y dije: 'Solo estoy siendo yo misma'. En 2013, apareció como la artista de cabaret Georgia, en una adaptación televisiva de Blandings de PG Wodehouse (episodio" The Crime Wave at Blandings ") en la BBC.
En 2015 apareció como ella misma en Paolo Sorrentino's Youth. Más tarde ese año, Faith también apareció como Tinker Bell en la película de televisión Peter & Wendy, basada en la novela de J. M. Barrie Peter Pan.
En 2016, Faith se convirtió en jueza en The Voice UK. Ella permaneció en el panel durante una serie, debido a su embarazo. En 2017, Faith cantó con Grace Davies en la canción original de Grace, "Roots", en "The X Factor". En 2018, Faith fue elegida como la villana principal en la serie de Epix Pennyworth, una precuela de Batman.
Discografía
Álbumes de estudio
2009: Do You Want The Truth Or Something Beautiful?
2012: Fall To Grace
2014: A Perfect Contradiction
2017: The Architect
2020: New Album
Título
Detalles del Album
Posicionamientos principales
Certificationes
Ventas
UK
​
AUS
​
FIN
​
IRE
​
NLD
​
NZ
​
SWI
​
SCO
​
US
​
US
Heat.
​
Do You Want the Truth
or Something Beautiful?

Publicado: 28 September 2009
Sello: Epic Records
Formatos: CD, descarga digital, LP

9
—
33
26
50
—
37
12
—
—
Fall to Grace

Publicado: 28 May 2012
Sello: RCA Records
Formatos: CD, descarga digital, LP

2
49
44
10
—
15
36
1
170
2
A Perfect Contradiction

Publicado: 10 March 2014
Sello: RCA Records
Formatos: CD, descarga digital, LP

2
4
—
8
41
9
91
2
176
6

BPI: 2× Platinum
ARIA: Gold

The Architect

Publicado: 17 November 2017
Sello: Sony
Formatos: CD, descarga digital, LP

1
57
—
18
—
—
—
1
—
22
New Album

Publicado: 2020
Sello: Sony
Formatos: CD, descarga digital, LP

Por ser lanzado
Sencillos
Año
Título
Posiciones
Certificaciones
Album

R.U.
​

ALE
​

AUS
​

FIN
​

IRL
​

HOL
​

NZ
​

SUE
​

SUI
​
2009
«Stone Cold Sober»
17
70
—
—
—
84
30
—
36
Do You Want the Truth or Something Beautiful?
«New York»
15
54
—
8
12
—
—
38
15
«Do You Want the Truth or Something Beautiful?»
64
—
—
—
—
—
—
—
—
2010
«Upside Down»
55
—
—
—
—
—
—
—
—
«New York»(con Ghostface Killah)
44
—
—
—
—
—
—
—
—
«Smoke & Mirrors»
140
—
—
—
—
—
—
—
—
2012
«Picking Up the Pieces»
7
—
—
—
13
—
30
—
—
Fall to Grace
«30 Minute Love Affair»
50
—
—
—
—
—
—
—
—
«Never Tear Us Apart»
16
—
—
—
42
—
—
—
—
«Just Be»
66
—
—
—
—
—
—
—
—
2013
«Black & Blue» ​
—
—
—
—
—
—
—
—
—
2014
«Can't Rely on You»
10
—
64
21
5
53
34
—
—
A Perfect Contradiction
«Only Love Can Hurt Like This»
6
—
1
—
26
—
3
—
—

AUS: 3× Platino ​
NZ: Platino ​
R.U.: Oro ​

Trouble with My Baby
—
—
—
—
—
—
—
—
—
Ready for the Good Life
68
—
—
—
—
—
—
—
—
2015
Leave While I'm Not Looking
—
—
—
—
—
—
—
—
—
Beauty Remains
—
—
—
—
—
—
—
—
—
2017
"Crybaby"
36
—
—
—
—
—
—
—
—
BPI: Plata
The Architect
"Guilty
—
—
—
—
—
—
—
—
2018
Til I'm Done
95
—
—
—
—
—
—
—
—
"Lullaby"

(with Sigala)

6
—
—
—
8
—
—
—
52

BPI: Platino
ZPAV: Platino

Make Your Own Kind of Music
28
—
—
—
—
—
—
—
—
BPI: Plata
Warrior
—
—
—
—
—
—
—
—
—
Loyal
—
—
—
—
—
—
—
—
—
2019
I've Gotta Be Me
—
—
—
—
—
—
—
—
—
TBA
2020
Mistakes

with Jonas Blue

_
_
_
_
_
_
_
_
_
TBA
Colaboraciones y apariciones
Año
Título
Artista
Álbum
2009
«It's Christmas (And I Hate You)»
Josh Weller, Paloma Faith,
The Arctic Circle Ensemble & The Puffin Voices
That Fuzzy Feeling EP
«What's a Girl Gotta Do»
Basement Jaxx
Scars
2010
«Lola»
Ray Davies
See My Friends
«I Put a Spell on You»
Shane MacGowan con amigos
Sencillo con fines benéficos
para las víctimas del Terremoto de Haití de 2010
«Keep Moving»
Adam Deacon & Bashy
Banda sonora de 4.3.2.1
2011
«Hard Times»
(con Elton John y Paloma Faith)
Plan B
The Defamation of Strickland Banks
«Desire»
Paloma Faith, Graham Coxon & Bill Ryder-Jones
Sencillo promocional para la campaña de Converse
2012
«He Ain't Heavy, He's My Brother»
formando parte de The Justice Collective
Sencillo con fines benéficos
«Heart & Sole»
Mikill Pane
You Guest It EP
2013
«Lost Ones»
Tinie Tempah
Demonstration
2014
«Changing»
Sigma
Nobody To Love
«Diamonds Are a Girl's Best Friend»
Shirley Bassey
Hello Like Before
«You're so Sad»
Nervous Nellie
Where the Nightmare Gets In
Notas:
Premios y Nominación
Year
Premio
Categoría
Trabajo
Resultado
2009
ATC Hitz Awards
Mejor nueva cantante femenina
Herself
Nominada
2010
Clothes Show Style Awards
La mejor vestida del año
Nominada
2011
Brit Awards
Artista solista británico
Nominada
ASCAP Awards
ASCAP College Award
Do You Want the Truth or Something Beautiful?
Ganadora
MPG Awards
UK Single of the Year 2010
Nominada
UK Music Video Awards
Best Styling in a Video
"Smoke & Mirrors"
Nominada
2012
Mejor video pop
"Picking Up the Pieces"
Nominada
4Music Video Honours
Mejor Video
Nominada
2013
MPG Awards
UK Single Song Release of the Year
Nominada
UK Album of the Year
Fall to Grace
Nominada
Brit Awards
MasterCard British Album of the Year
Nominada
Artista solista británico
Herself
Nominada
Cosmopolitan Ultimate Women Award
Cosmopolitan's Style Icon
Ganadora
2014
MP3 Music Awards
The JSB Award
"Only Love Can Hurt Like This"
Nominada
The HDT Award
"Changing" with Sigma
Ganadora
Urban Music Awards
Best Music Video
"Can't Rely on You"
Nominada
UK Music Video Awards
Best Video Artist
Herself
Nominada
Best Colour Grade in a Video
"Can't Rely on You"
Nominada
"Only Love Can Hurt Like This"
Ganadora
Xperia Access Q Awards
Best Video
Nominada
World Music Awards
World's Best Album
Fall to Grace
Nominada
Pro Sound Awards
Best Recording Production
A Perfect Contradiction
Ganadora
O2 Silver Clef Awards
Best British Act Award
Herself
Ganadora
Attitude Awards
Music Gong
Ganadora
Glamour Awards
Best Solo UK Artist
Ganadora
2015
Brit Awards
Artista solista británico
Ganadora
International Dance Music Awards
Best Dubstep/Drum & Bass Track
"Changing" with Sigma
Nominada
2018
Global Awards
Best Female
Herself
Nominada
Best Appeal
Nominada
Best British Artist or Group
Nominada
Brit Awards
British Female Solo Artist
Nominada
Music Week Awards
Artist Marketing Champaign
Nominada
Webby Awards
Celebrity/Fan
www.palomafaith.com
Nominada
2019
Brit Awards
British Single of the Year
Lullaby (with Sigala)
Nominada
Global Awards
Mass Appeal Award
Herself
Nominada
Music Week Awards
Music & Brand Partnership
Herself (with Škoda)

Make Your Own Kind of Music

Ganadora
UK Music Video Awards
Best Choreography
Loyal
Nominada
Best Colour Grading in a Video

(Simona Cristea Coffie & TV)

Nominada
Ibiza Music Video Festival
Best Colouris

(Simona Cristea / Holly Colour)

Nominada
2020
UK Music Week Awards
Music & Brand Partnership
Herself (with Škoda)

I've Gotta Be Me

Pendiente
Filmografía
Actuaciones en películas
Año
Nombre
Personaje
Notas
2007
St Trinian's
Andrea
Actriz debutante
2009
The Imaginarium of Doctor Parnassus
Sally
Dread
Clara Thornhill
2011
A Nice Touch
2015
Youth
Paloma Faith
Personajes en Televisión
Año
Nombre
Personaje
Notas
2006
Mayo
Invitada
2007
HolbyBlue
Donna Reynolds
2009
Never Mind the Buzzcocks
Invitada
Series 23, Episode 1
2010
Never Mind the Buzzcocks
Invitada
Series 24, Episode 6
2010
Coming Up: I Don't Care
Rainy
2013
Blandings
Georgia
2019
Pennyworth
Bet Sykes
Serie 1

Página: Musica.com | Fuente: Wikipedia
Más Paloma Faith