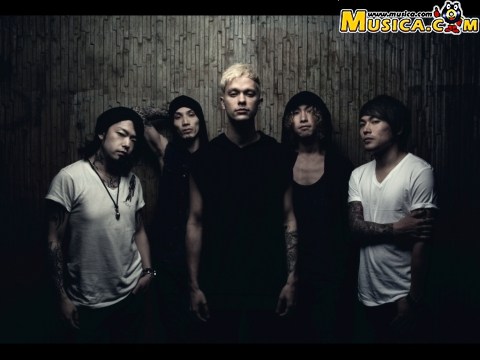 Biografía de Coldrain
coldrain (コールドレイン) es una banda japonesa de post-hardcore. Se formó en Nagoya en 2007 con cinco integrantes: Vo/Masato, Ba/RxYxO, Gt/Y.K.C, Dr/Katsuma y Gt/Sugi. Aunque la banda es japonesa, todas sus canciones están escritas en inglés. Masato (Voz) es hijo de un padre japonés y una madre estadounidense habla japonés e inglés. ​ ​
Este grupo en sus raíces fusiona distintos géneros musicales como punk, metal, rock y hardcore, que después fue fusionado con ligeros toques de pop potencial para la puesta en escena, aprovechando al máximo la audiencia. Según ellos mismos, se ven influenciados por la banda estadounidense My Chemical Romance y por la japonesa Pay money To my Pain.
La canción "Die Tomorrow" forma parte de la banda sonora de Pro Evolution Soccer 2011, la canción "No Escape" forma parte del Teaser Trailer del videojuego Resident Evil: Operation Raccoon City (en su país natal Biohazard: Operation Raccoon City), la canción "We are not alone" del anime Rainbow: Nisha Rokubō no Shichinin,"8AM" es el ending de "Hajime no Ippo New challenger" y, además, la canción "Feed The Fire" que es el opening del anime Ousama Game: The Animation. El tema "MAYDAY" es el opening de la segunda parte de Enn Enn no Shobutai.
Índice
1 Discografía
2 Sencillos
3 Referencias
4 Enlaces externos
Discografía
Fiction (Maxi Single) - 2008
8am (Maxi Single) - 2009
Final Destination (Álbum) - 2009
Nothing Lasts Forever (EP) - 2010
The Enemy Inside (Álbum) - 2011
Three Days of Adrenaline (Álbum CD/DVD en vivo) - 2011
Through Clarity (EP) - 2012
The Revelation (Álbum) - 2013
Until The End (EP) - 2014
VENA (Álbum) - 2015
VENA II (EP) - 2016
FATELESS (Álbum) - 2017
The Side Effects (Álbum) - 2019
Sencillos
Fiction - 2008
8am - 2009
Final destination - 2009
Die tomorrow - 2010
To be alive - 2011
Rescue me - 2011
No Escape - 2012
Six Feet Under - 2012
Inside Of Me - 2012
The Revelation - 2013
The War Is On - 2013
Aware and Awake - 2014
You Lie - 2014
Evolve - 2015
Time Bomb - 2015
Gone - 2015
Feed the Fire - 2017
Revolution - 2018
Coexist - 2019
The Side Effects - 2019
Mayday - 2019
See You - 2019

Página: Musica.com | Fuente: Wikipedia
Más Coldrain