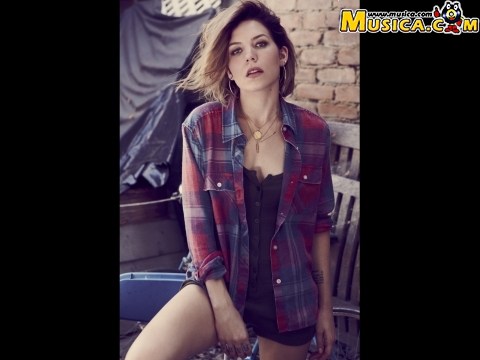 Biografía de Skylar Grey
Skylar Grey cuyo nombre real es Holly Brook Hafermann, (Mazomanie, Wisconsin, Estados Unidos, 23 de febrero de 1986), es una cantante, compositora y productora estadounidense. ​
Comenzó grabando con la discográfica Machine Shop Recordings bajo el nombre de Holly Brook y lanzó su álbum debut "Like Blood Like Honey" en 2006. Coescribió las tres versiones de Love the Way You Lie (para Eminem y Rihanna) con Alex da Kid, quien la contrató para su sello discográfico KIDinaKORNER. También ha colaborado como vocalista invitada en canciones de diversos músicos: en las canciones Where'd You Go y Be Somebody de Fort Minor (Mike Shinoda); en Coming Home de Diddy-Dirty Money; en I Need a Doctor de Dr. Dre; en Words I Never Said de Lupe Fiasco; en Room for Happiness de Kaskade y en Rise de David Guetta. ​
Índice
1 Discografía

1.1 Álbumes de estudio
1.2 EP
1.3 Sencillos
1.4 Colaboraciones y apariciones

2 Referencias
3 Enlaces externos
Discografía
Álbumes de estudio
2006: Like Blood Like Honey (como Holly Brook)
2013: Don't Look Down
2016: Natural Causes
EP
Holly Brook EP
O'Dark:Thirty EP
The Buried Sessions of Skylar Grey
Shot Me Down EP
Sencillos
Año
Título
Álbum
2011
«Dance Without You»
—
«Invisible»
2012
«C'mon Let Me Ride»
(con Eminem)
Don't Look Down
2013
«Final Warning»
«Wear Me Out»
«White Suburban»
2015
«Cannonball»
(con X Ambassadors)
Sonic Footprints
2016
«Moving Mountains»

--------
Colaboraciones y apariciones
Año
Canción
Álbum
Artista(s)
Participación
2004
«Here Comes the Rain Again»
Dozi Goes DJ Swiss
—
Vocalista
«Follow Me»
«How I Was to Know»
2005
«Be Somebody»
(con Lupe Fiasco)
The Rising Tied
Fort Minor
Vocalista
«Where'd You Go»
(con Jonah Matranga)
«Done With Like»
Finally Out of P.E.
Brie Larson
Compositora
«She Said»
2009
«And Now We Sing»
Whisper House
Duncan Sheik
Vocalista
«No Sad Tomorrow»
(con Mike Mass)
Wanna Snuggle?
Apathy
«Victim»
«All I Want is Love»
Listen
Duncan Sheik, Spring Awakening Cast Members
2010
«Hero 2.0»
—
Badassjackson
«Coming Home»
Last Train to Paris
Diddy-Dirty Money
Vocalista y compositora
«Love the Way You Lie»
(con Rihanna)
Recovery
Eminem
Compositora
«Love the Way You Lie (Part II)»
(con Eminem)
Loud
Rihanna
«Castle Walls»
(con Christina Aguilera)
No Mercy
T.I.
2011
«I Need a Doctor»
(con Eminem)
Detox
Dr. Dre
Vocalista y compositora
«Words I Never Said»
Lasers
Lupe Fiasco
2012
«Room for Happiness»
Fire & Ice
Kaskade
«Clarity»
(con Foxes)
Clarity
Zedd
Compositora
«Our House»
(con Eminem)
Welcome to: Our House
Slaughterhouse
Vocalista y compositora
«Rescue Me»
2013
«Love Bullets»
#willpower
will.i.am
«The Last Day»
Innocents
Moby
«Asshole»
The Marshall Mathers LP 2
Eminem
«Only You»
(con Lauriana Mae)
Girl Power
Cee Lo Green
Compositora
2014
«Hero»
Need for Speed (soundtrack)
Kid Cudi
Vocalista
«Twisted» ​
Shady XV
Eminem, Yelawolf
«New National Anthem»
Paperwork
T.I.
«Shot Me Down»
Listen ​
David Guetta
«Rise»
«Bed of Lies» ​
The Pinkprint
Nicki Minaj
Vocalista y compositora
«Tonight»
Rose Colored Bass
David Heartbreak
Vocalista
«Addicted to Love»
Endless Love
—
2015
«I Know You»
Cincuenta sombras de Grey
Vocalista y compositora
«I Will Return»
Furious 7
«Beneath with Me»
—
Kaskade & Deadmau5
Vocalista
2016
«Wreak Havoc»
Escuadrón suicida
Vocalista y compositora
2017
«Periscope»
Crooked Teeth
Papa Roach
Vocalista

Página: Musica.com | Fuente: Wikipedia
Más Skylar Grey