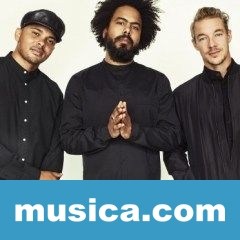 Biografía de Major Lazer
Major Lazer, es un grupo estadounidense de música electrónica, deep house y moombahton formado por Diplo, Jillionaire y Walshy Fire. Inicialmente formado por los productores Diplo (Thomas Wesley Pentz) y Switch (Dave Taylor). Este último se alejó a fines de 2011, debido a diferencias artísticas. ​ El DJ y productor Jillionaire y Walshy Fire de la banda de dancehall Black Chiney, se unieron al trío en el 2011. Desde entonces colaboran con la producción y en sus conciertos en vivo.
Índice
1 Trayectoria musical
2 Personaje animado
3 Discografía

3.1 Álbumes
3.2 EP
3.3 Sencillos
3.4 Remixes
3.5 Soundtracks

4 Ranking DJmag
5 Referencias
6 Enlaces externos
Trayectoria musical
El grupo empezó como un dúo integrado por los DJ y productores Diplo y Switch, quienes tienen la particularidad de haber colaborado anteriormente en trabajos de producción para las cantantes M.I.A. y Santigold. Grabaron su álbum debut Guns Don't Kill People... Lazers Do en los estudios Tuff Gong de Jamaica. Contó con la colaboración vocal de varios artistas de dancehall incluyendo Vybz Kartel, Ward 21, Busy Signal, Mr. Vegas, Turbulence, Mapei, T.O.K, Prince Zimboo, Leftside así como las cantantes Santigold, Nina Sky, y la rapera Amanda Blank. Como productores adicionales participaron el holandés Afrojack y el dúo italiano Crookers. Fue lanzado en junio de 2009 por los sellos Downtown Records y Mad Decent, el sello de Diplo.
Su primer sencillo fue "Hold the Line", que contenía un video musical dirigido por Ferry Gouw, el cual recibió una nominación en los MTV Video Music Awards en la categoría "Video Revelación". Eric Wareheim fue el encargado de la dirección de los sucesivos sencillos como "Pon de Floor" y "Keep It Going Louder". ​
En mayo de 2010, lanzaron el mixtape Lazerproof, realizado junto a la banda La Roux, en el que mezclan estilos diferentes, desde el R&B de Drake, al dubstep de Rusko, pasando por el drum & bass de Skream o el dancehall de Gyptian. ​
En julio de ese mismo año, el grupo lanzó un EP titulado Lazers Never Die. Contiene algunas colaboraciones como M.I.A., Buraka Som Sistema, e incluye la participación de Thom Yorke al remezclar uno de las pistas. ​
Switch contribuyó en la producción de la canción Run the World (Girls) para la cantante Beyoncé, utilizando el sample de "Pon de Floor". En 2012, No Dioubt anunció que Major Lazer será la única colaboración dentro de su último material: Push and Shove. Además colaboraron en el nuevo proyecto de Snoop Dogg, bajo el alias Snoop Lion en el álbum Reincarnated.
Luego de la partida de Switch de Major Lazer en 2011, fue reemplazado por el productor y DJ Jillionaire y Walshy Fire.
Durante el 2010, Major Lazer se presentó en países de ro de 2013, la banda firmó con la discográfica independiente Secretly Canadian con la que lanzaron su segundo álbum Free the Universe en abril de 2013. Incluye la colaboración de artistas como Ezra Koenig de Vampire Weekend, Amber Coffman de Dirty Projectors, Busy Signal, Tyga, Flux Pavilion, Bruno Mars, Wyclef Jean, Shaggy, así como los productores holandeses Laidback Luke y The Partysquad entre otros. De éste se desprenden sencillos como "Get Free" con las voces de Amber Coffman, y "Watch Out for This (Bumaye)", convirtiéndose este último en un éxito en varios países de Europa como Francia, Bélgica y España.
En febrero de 2014, lanzaron el EP Apocalypse Soon ​ en la que incluyen colaboraciones de artistas tales como Pharrell Williams, en la canción "Aerosol Can" y de Sean Paul en "Come On To Me".
El 8 de febrero de 2015, durante la ceremonia de los premios Grammy, Diplo reveló detalles del tercer álbum de Major Lazer que se titulará Peace is the Mission el cual está programado su lanzamiento para junio de 2015., ​ Contara con las colaboraciones de Ariana Grande, Ellie Goulding, Pusha-T, entre otros artistas. ​
El primer sencillo, «Lean On», es una colaboración con el DJ y productor francés DJ Snake y cuenta con la voz de la artista danesa MØ, Lean On se convirtió en un éxito mundial llegando a ser la canción más escuchada en Spotify y su video musical se convirtió en uno de los más vistos en la plataforma de Youtube.
Personaje animado
La banda está representada por un personaje animado de ficción, ​ que (de acuerdo con comunicados de prensa) luchó con un comando de Jamaica en la cual perdió su brazo en una guerra secreta zombie en 1984. ​ Él lucha contra vampiros y monstruos diversos, y hasta con un Hoverboard impulsado por un cohete.
Discografía
Álbumes
Guns Don't Kill People... Lazers Do (2009)
Free the Universe (2013)
Peace Is the Mission (2015)
Peace Is the Mission: Extended (2015)
Peace Is the Mission Remixes (2016)
Music Is The Weapon (2017)
Major Lazer Essentials (2018)
EP
Lazers Never Die (2010)
Apocalypse Soon (2014)
Know No Better (2017)
Mixtapes
2009: Major Lazer Essential Mix (disponible como podcast)
2010: Lazerproof (con La Roux)
2010: Major Lazer Summer Mix (disponible como podcast)
Sencillos
2009: "Hold The Line" (con Mr. Lex & Santigold)
2009: "Pon de Floor" (con Vybz Kartel & Afrojack)
2009: "Keep It Goin' Louder" (con Nina Sky & Ricky Blaze)
2010: "Jump Up" (con Leftside & Supahype)
2011: "Original Don" (con The Partysquad)
2012: "Get Free" (con Amber Coffman)
2012: "Jah No Partial" (con Flux Pavilion)
2013: "Watch Out for This (Bumaye)" (con Busy Signal, The Flexican & FS Green)
2013: "Bubble Butt" (con Bruno Mars, Tyga, GD&TOP of BIG BANG & Mystic)
2013: "Keep Cool (Life Is What)" (con Shaggy y Wynter Gordon)
2014: "Aerosol Can" (con Pharrell Williams)
2014: "Come On To Me" (con Sean Paul)
2015: "We Make It Bounce" (con Dillon Francis & Stylo G)
2015: "Lean On" (con MØ & DJ Snake)
2015: "Roll The Bass"
2015: "Powerful" (con Ellie Goulding & Tarrus Riley)
2015: "Night Riders" (con Travi$ Scott, 2 Chainz, Pusha T & Mad Cobra)
2015: "Bass Drop" (con Andy Samberg)
2015: "Too Original" (con Elliphant & Jovi Rockwell)
2015: "Be Together" (con Wild Belle)
2015: "All My Love" (con Ariana Grande & Machel Montano) (Remix)
2015: "Light It Up" (con Nyla & Fuse ODG) (Remix)
2015: "One Wine" (con Sean Paul & Machel Montano)
2015: "Boom" (con MOTi, Wizkid, Kranium & Ty Dolla Sign)
2015: "Lost" (con MØ)
2015: "Wave" (con Kali Uchis)
2015: "Thunder & Lightning" (con Gent & Jawns)
2016: "Who Am I" (con Katy B & Craig David)
2016: "Number One" (con Grandtheft)
2016: "Cold Water" (con Justin Bieber & MØ)
2016: "Believer" (con Showtek)
2016: "Christmas Trees" (con Protoje)
2016: "My Number" (con Bad Royale)
2017: "Run Up" (con PARTYNEXTDOOR & Nicki Minaj)
2017: "Know No Better" (con Travis Scott, Camila Cabello & Quavo)
2017: "Buscando Huellas" (con J Balvin & Sean Paul)
2017: "Sua Cara" (con Anitta & Pabllo Vittar)
2017: "Leg Over" (con Mr Eazi, French Montana & Ty Dolla Sign) (Remix)
2018: "Miss You" (con Cashmere Cat & Tory Lanez)
2018: "Tip Pon It" (con Sean Paul)
2018: "Loko" (con Tropkillaz, MC Kevinho & Busy Signal)
2018: "Let Me Live" (con Rudimental, Anne-Marie & Mr Eazi)
2019: "Que calor" (con El alfa & J Balvin)
2019: "Make it hot" con Anitta
Remixes
2010: Gyptian – Hold You (Major Lazer Remix)
2010: Cajmere – Percolator (Major Lazer Percumajor)
2010: Mark Ronson & The Business Intl – The Bike Song (Major Lazer Remix)
2011: Beastie Boys Feat. Santigold – Don't Play No Game That I Can't Win (Major Lazer Remixes)
2012: Hot Chip – Look At Where We Are (Major Lazer Remix / Major Lazer vs Junior Blender remix)
2012: No Doubt – Settle Down (Major Lazer Remix)
2012: The Prodigy – Smack My Bitch Up (Major Lazer Remix)
2013: Bruno Mars – Locked Out of Heaven (Major Lazer Remix)
2013: Bunji Garlin – Differentology (Major Lazer Remix)
2013: Macklemore & Ryan Lewis – Can't Hold Us (Major Lazer Remix feat. Swappi 4D & 1st Klase)
2013: Konshens – Gal A Bubble (Major Lazer x Bro Safari x ETC!ETC! Remix)
2013: Dada Life – Boing Clash Boom (Major Lazer Remix)
2013: Jack Beats – KYD (Major Lazer X Jack Beats Remix)
2013: Machel Montano – The Fog (Major Lazer & Grandtheft Remix)
2013: Bad Piggies – Shuffle & Spawn (Major Lazer Remix)
2014: Dimitri Vegas & Like Mike vs. DVBBS & Borgeous – Stampede (Major Lazer & P.A.F.F. Remix)
2014: Davido – Skelewu (Major Lazer & Wiwek Remix)
2014: Flipo – Doh Tell Me Dat (Major Lazer & Jr Blender Remix)
2015: Stromae – Ave Cesaria (Major Lazer Remix)
2015: Kranium Ft. Ty Dolla $ign - Nobody Has To Know (Major Lazer & KickRaux Remix)
2015: Bunji Garlin - "Exodus" (Major Lazer X P.A.F.F. Remix)
2015: Major Lazer - Lean On (Remix) (feat. Farruko & J Balvin)
2016: With You. feat. Vince Staples - "Ghost" (Major Lazer Remix)
2017: Ed Sheeran - "Shape of You" (Major Lazer vs. Kranium & Nyla Remix)
2017: Luis Fonsi feat. Daddy Yankee - Despacito (Major Lazer & Moska Remix)
2018: Major Lazer - En La Cara (Sua Cara Spanish Remix) (feat. Karol G)
Soundtracks
2014: All My Love (con Ariana Grande) - From The Hunger Games: Mockingjay Part 1
Ranking DJmag
| DJ | 2015 | 2016 | 2017 |
| --- | --- | --- | --- |
| Major Lazer | 54° | 44° | 45° |

Página: Musica.com | Fuente: Wikipedia
Más Major Lazer