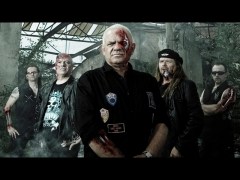 Black Widow LETRA
Udo
Añadir a Favoritas
Al final de la letra de Black Widow podrás comentar sobre ella o acceder a más canciones de Udo y a música relacionada.
I just love my nightmares
I can't wait to sleep
Enjoying all my dreams
got no regrets
I can be a flash of lightning
Striking down on rocks
Burning down the law
Getting things I never got
Turning the world
Nothing unheard
One night can be more than a day
Just like a black widow
Like a black widow
I can't stand the dreamers
Scared of things that fly
They just have sweet fantasies
And fade and die
Nightmares- are so good, so good
And they always end just when they should
Nightmares are cool, nightmares are cruel
I love the fun and the thrill
Just like a black widow
Like a black widow
Black widow
Just like a black widow
Here comes the morning
And who can deny
Leaving the dream is so hard
I love my nightmares
I await their return
And this time, I'm dressed to kill, dressed to kill
Just like a black widow............
Más abajo encontrarás canciones relacionadas con Black Widow.
Puntuar 'Black Widow'
¿Qué te parece esta canción?
-
0 votos
* Gracias a Paulita.. por haber añadido esta letra el 2/4/2007.
Comentar Letra
Comenta o pregunta lo que desees sobre Udo o 'Black Widow'
Comentar
+ Udo