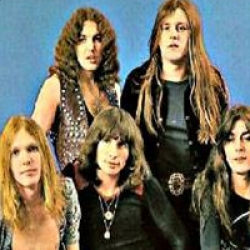 Blue
UFO
LETRA
It's another night stuck in here, with the TV on
As John Wayne holds the Alamo,
I'm wonderin' where you've gone
I just sit and wait, hope it's not too late
Say there's something left to prove it to you
Outside this house nothing's changed
Our street looks just the same
The things you left I'll keep that way
Till we're together again
When I just start to slip, yes Il lose my grip
I can't believe you're gone, it's really true
Blue, blue, oh baby where are you
Blue, blue, tell me know, it's not true
There's nothing romantic in a tear-drawn goodbye
Oh baby say it's a lie
Panic sets in, I'm an irrational man
If I can't have you nobody can
* Repeat
Last night, I heard you talkin
Oh so close, whispering in my ear
All night, till the morning I kept wishing I could feel you near
When we stood naked at the 4th of July
Moon shot took off, lit up the sky
The Red Sea was parting for the second time
The world at my feet, you were mine, it was..
[INSTRUMENTAL]
Lovin' you was so easy baby
Holdin' on when our luck was down
Sweetest thing that I ever, ever heard Was
";I'll always, always be around";
Blue, blue, oh baby, where are you
Blue, blue, gettin' desperate, desperate for you
Más abajo podrás valorar y comentar la canción Blue.
Puntuar 'Blue'
¿Qué te parece esta canción?
-
0 votos
* Gracias a AdriRanis por haber añadido esta letra el 4/5/2007.
Comentar Letra
Comenta o pregunta lo que desees sobre UFO o 'Blue'
Comentar
+ UFO