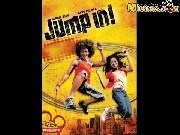 Go!
LETRA
Go! Letra
Every day the same day
It never changes
I hump the nine to five
I do what I do just to get by
Im always fiending for a new life
Tonights the night
Im gonna settle the score
The weekday war for my soul
Tonights the night Im gonna lose control
Gonna hit the floor act a fool
boy your on the floor now
let the music take your soul
boy your gonna score now
maybe you should just let go
GO GO if something happens on the floor
GO GO before they throw us out the door
GO GO because we want a little more
And we cant find it here we got to go
GO GO We got to get it to the spot
GO GO We got to drop it while it hot
GO GO we got to do it when they not
Cause we plot quite a lot with the skills that we got
I been waiting for divine inspiration
From the radio station where to go
To where the club be hoppin
The dj be dropping
Beat boxers boxing with some popping and locking
Mc's macking stalking folks
Lyrically attacking squawking jokes
Got the bouncers bounding
Got to get pounding
when the vibe starts winding got to go
Datos de esta canción
GO! es una canción de Jump In. Agradecemos a chianjump_mmh por haber sudido la letra de Go!.