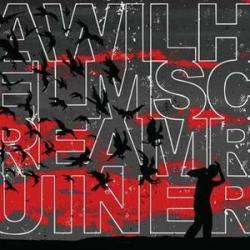 The Pool
A Wilhelm Scream
La canción 'The Pool' se estrenó en 2005. Este tema está incluido dentro del disco Ruiner
Al final de la letra de la canción 'The Pool' podrás puntuar su calidad, comentar sobre ella, acceder a más lyrics de A Wilhelm Scream y a música relacionada.
LETRA
The room's new carpet, and the walls' apartment hue add to the visitor feeling I'm used to.
The morning window's freezing from outside. It wakes me up.
Wasting air to the falling light.
Angel, you picked me up but the devil wants me too.
I never gave a f***, so why should you?
I awoke in a fog with an ache, at a loss.
You were faking through relationships to rot.
This is not my home anymore.
All my accomplishments are joined with asterisks,
so in a few years they're meaningless.
Darling, I can't erase it, but could you forget my lies?
We were the slut and the self-made mess.
Please know I tried.
Smile, smile.
Smile for all.
I can't smile anymore.
I skip rocks to mock the clashing tide.
It's encroaching on our side.
The wave parade is drowning me out too.
It breaks me up.
Wish I could have done more to you.
They used your body up, leaving your guts dry.
But you never gave a f*** so why the f*** should I?
Now the face escapes me, but the shame's forever.
When I get the nerve to test the death for life renewal,
you'll find me lying at the bottom of the pool.
And when I'm face down in that water, don't pick me up.
Cause I'll be face down in that water next to you.
It will be better underwater.
Don't pick me up.
Más abajo podrás valorar y comentar la canción The Pool.
Puntuar 'The Pool'
¿Qué te parece esta canción?
-
0 votos
* Gracias a van182 por haber añadido esta letra el 10/10/2007.
Comentar Letra
Comenta o pregunta lo que desees sobre A Wilhelm Scream o 'The Pool'
Comentar
+ A Wilhelm Scream
Canciones del Disco