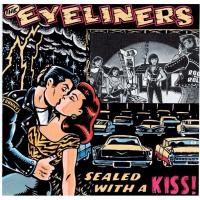 Finished With You
Letra y Canción
Añadir a Favoritas
Guardar en Playlist
FINISHED WITH YOU es una canción de The Eyeliners del año 2001, este tema está incluido dentro del disco Sealed With a Kiss.
LETRA
'Finished With You'
look at you - you're such a sight to see
do you know what you think or who you want to be?
you bring me down with negativity
you've got a lot to say, but no credibility
[Chorus]
do you think you left me broken hearted?
you should know that it's not so easy to do
i always try to finish what i've started
all i know is that i'm finished with you
i bet you'll tell me what you're thinking of me
but i don't care, i know who i want to be
your opinions lack sincerity
as you try to stay true to your stupid philosophy
[Chorus]
i think i finally figured it out
and now i know what you're all about
you've opened my eyes and now i can see
with friends like you, who needs enemies?
[Chorus]