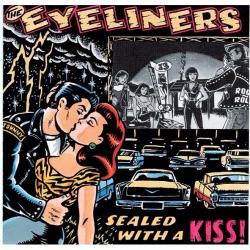 Too Good To Be True
The Eyeliners
La canción 'Too Good To Be True' se estrenó en 2001. Este tema está incluido dentro del disco Sealed With a Kiss
LETRA
things seem so different
though not much has changed at all
self deconstruction and now i find
that i am tearing down my walls
always so cynical, careful
cautious, and distrustful
but now i see the world through rose colored glasses
and everything is beautiful
[Chorus]
my head is spinning in the clouds
and i'm walking on air
if i couldn't change a single thing
i wouldn't really care
do dreams ever come true
or is this just another point of view?
it's beautiful and new
it seems too good to be true
i'm afraid that things will change
and then these feelings will slip away
then my rose colored world
would turn to many shades of gray
and i'd wonder if i'd ever feel
the same again one day
if i do, will it be too good to be true?
[Chorus]
Más abajo podrás valorar y comentar la canción Too Good To Be True.
Puntuar 'Too Good To Be True'
¿Qué te parece esta canción?
-
0 votos
* Gracias a van182 por haber añadido esta letra el 11/11/2007.
Comentar Letra
Comenta o pregunta lo que desees sobre The Eyeliners o 'Too Good To Be True'
Comentar
+ The Eyeliners
Canciones del Disco