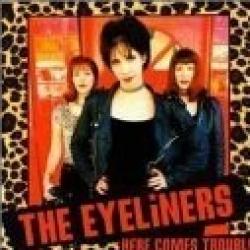 Do The Zombie LETRA
The Eyeliners
Añadir a Favoritas
'Do The Zombie' se estrenó en 2000. Este tema está incluido dentro del disco Here Comes Trouble
Al final de la letra de Do The Zombie podrás comentar sobre ella o acceder a más canciones de The Eyeliners y a música relacionada.
The night is young and the moon is full
And if you're looking for a thrill
There's a party going on at
The house on top of the hill
You know that a band will be playing
And they're gonna give you a scare
You're invited, but i'm telling you
That you better all beware
Because they
Do the zombie yeah-yeah
Don't care what they say
Do the zombie yeah-yeah
They'll be dancing till the dawn of day
He looked at her from across the room and said,
"Hey girl do you want to dance?"
She looked at him with a little grin and said,
"Why should i give you a chance?"
He said, "Don't be shy. I'm a helluva guy and i can prove to
You what i say, before i'm through, you'll be doing the
Zombie too" and then you could hear him say...
And he said
[Chorus]
Then the band they started to play
And everyone was in a trance
Every boy and every girl were
Doin' the zombie dance
The room was shakin' and the walls were breakin'
Tehy were dancing in a daze
They scream and yell, now they're under the spell
Of the hypnotizing craze
Because they
[Chorus]
Más abajo podrás valorar y comentar la canción Do The Zombie.
Puntuar 'Do The Zombie'
¿Qué te parece esta canción?
-
0 votos
* Gracias a van182 por haber añadido esta letra el 11/11/2007.
Comentar Letra
Comenta o pregunta lo que desees sobre The Eyeliners o 'Do The Zombie'
Comentar
+ The Eyeliners
Canciones del Disco