Letra de la canción

Say it loud, say it proud
'cause noone can hear you.
Say what you need to say
And then lick it shut 'cause
Whatever you are, whatever you dream
This letter is a silent scream.
Wherever you hide, wherever you go
Noone will ever know.

This is the burden that you never asked for
This is a secret but you'll keep it no more.
'Cause on the cover it reads; open never, close forever.
This dead letter.

Tempted by the questions why
Like longings of a child.
But paper can't deny
even the calmest fire so…
Whatever you know, whatever you don't
And all points in between.
Whatever you feel whenever you see
The things you shouldn't show.
This is the burden that you never asked for.
This is a secret and you'll keep it no more.
'Cause on the cover it reads; open never, close forever.
This dead letter.

But should your package open
For stranger's eyes.
Your sanctuary broken
All hope will die.

Whatever.
Whatever you are.
Whatever.

This is the burden that you never asked for
This is the love that you don't care anymore.
This is the hurt that you won't carry inside.
This is the damage that you no longer hide.
'Cause on the cover it reads: Open never…Close forever.
This dead letter.
fuente: musica.com
Letra añadida por: IvyDenisse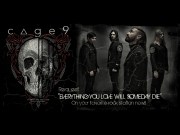 Compartir 'Dead Letter'