EMOTIONAL SKIES
I will not scream out in anger
Won't play this game forever.
Make up your mind or I will take control.
Why can't we end this nightmare.
If that's your way take your share,
Leave this now or I will loose my mind.

I will not scream in the night.
Come join in and stand side by side.

Come take my hand, let us fly away
Cross emotional skies.
(The dreams will come alive)
Follow me up through the clouds of grey
And into another day.

All people try to tell me:
"That's not the way it should be,
It's just the poison, feeding on your brain."
But in the lonesome night
They don't know the fight,
The battle that is raging inside my head.
I will not scream in the night.
Come join in and stand side by side.

Come take my hand, let us fly away
Cross emotional skies.
(The dreams will come alive)
Follow me up through the clouds of grey
And into another day.

You brought down the moon
So let your eyes light up the night.
Save me from darkness.
fuente: musica.com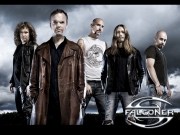 EMOTIONAL SKIES
LETRAS DE FALCONER
Letra añadida por:
Sir Enjuk
Escrita por:
KRISTOFFER GOEBEL,STEFAN WEINERHALL
Publicada por:
THE BICYCLE MUSIC COMPANY