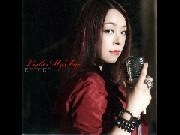 LETRA
dramatic
check it out
dramatic
chances
chances of...
Atarimae to shinjitsudzuketa koto mo
OMOTE to URA ga sakasadatte
Hontou wa daremo shiranai
Tomenaide Kimi no kokyuu
Toki wa modosenai kedo
Unmei wa Kono te no naka Ugokidasu kara
(Through the future...)
Kagayaku namida wo atsumete Jikan no umi wo watarou
Hate no nai kono yami mo Kurikaesu koukai mo
Ashita tsukuru genjitsu (face of fact...)
Yuraretsudzuketeru bokura wo Kasuka na hikari ga terasu
Itsuka hanashitekureta yume ga chirabaru basho de
Kanarazu mata deaeru kara
We are going on a voyage to the truth...
The light shines on the earth...
But I'm thinking so deeply about him, the face the fact.
Kotoba to iu mugen no yaiba motsu Hito wa kitto
Kirisakareta itami sae mo wasureta
Yasashisa wa Kimi no tsuyosa
Toki wo koeteku hadou
Unmei wa Sono te no naka Ugokidasu kara
(Through the fate...)
Nagareru namida no atsusa wa Ima mo mune ni sasatteru
Kanau hazu nai negai mo Kiri no nai koukai mo
Ima wo tsukuru shinjitsu (face of fact...)
Fukai yami ni me wo korashite Ukabu rinkaku wo miyou
Nakushitakunai mono ga Itsuka todoketai mono ga
Sono sugata wo arawasu kara
Well, the scar... on the mind... remain forever...
I was staring into the darkness...
We're going on a voyage to the truth...
The light shine on the earth,
but I'm thinking so deeply about him... face of factI
Kagayaku namida wo atsumete Jikan no umi wo watarou
Hate no nai kono yami mo Kurikaesu koukai mo
Ashita tsukuru genjitsu (face of fact...)
Yuraretsudzuketeru bokura wo Kasuka na hikari ga terasu
Itsuka hanashitekureta yume ga chirabaru basho de
Kanarazu mata deaeru kara
fuente: musica.com


X