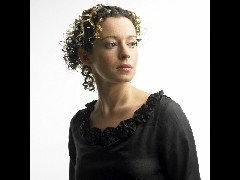 As I Roved Out
Kate Rusby
Al final de la letra de la canción 'As I Roved Out' podrás puntuar su calidad, comentar sobre ella, acceder a más lyrics de Kate Rusby y a música relacionada.
LETRA
As I roved out one fine May morning,
To view the meadows and flowers gay,
Who should I spy, but my own true lover
As she sat by yon willow tree.
I took off my hat and I did salute her,
I did salute her most courageously.
As she turned around, the tears fell from her
Saying, False young man, you've deluded me.
And the diamond ring I behold I gave to you,
A diamond ring to wear on your right hand.
But the vows you made, love, you went and broke them
And you wed the lassie who has the land
If I wed the lassie who has the land, my love,
It's that I'll rue 'till the day I die.
When misfortune falls, sure the man my shun it.
It was my fault, that I'll not deny.
And at night when I go to my bed of slumber
The thoughts of my love are in my mind.
As I turn around to embrace my darling,
instead of gold, sure 'tis brass I find.
And I wish the queen would bring home her armies
From the West Indies, America and Spain.
And every man to his wedded woman
Oh in hopes that I might be with thee again
Más abajo encontrarás canciones relacionadas con As I Roved Out.
Puntuar 'As I Roved Out'
¿Qué te parece esta canción?
-
0 votos
* Gracias a Tiezok por haber añadido esta letra el 4/12/2008.
Comentar Letra
Comenta o pregunta lo que desees sobre Kate Rusby o 'As I Roved Out'
Comentar
+ Kate Rusby