QUE GANAS DE AMARTE ENGLISH LYRICS

Uuuuuuuuuuuuuu ....

How many times in my brazoz
No buscastes, inploraste
And always love allaste

... Another opportunity, of course tuuu.

Now you tell me aucensia
Golpiado me and without mercy
when you return to allar .. Clarooo

I know that with these
I cause pain,
But I forgive
Because I love you.

I know it has been
Your new address
But you know well,
I feel love for you.

I feel like Amarte
Once again
And fall in love again
Comon baybe, you do not want to lose.

I feel like abrazarte
Stronger this time
To never release
Comon baybe, No Te quize lose.
I love you,
And I will not require
No evidence,
To see if your my
What I feel,
I was filled with value
To call you,
Without awaiting debuelvas the favor.

I just want
The opportunity, that I love,
For your own will
At the time,
Clearly, after God
The only thing I will be careful
For Your Interior

For Your Interior ....

(That I)

I feel like Amarte
once again
And fall in love again
(Comon baybe), you do not want to lose.

I feel like abrazarte
Stronger this time
Not to release
If My Baby, Do not you want to lose.

I want to kiss you
once again
quize never hurt you.
Comon Baybe, No Te Quiero Losing

I feel like abrazarte
With more strength this time
Never to release
Not My Baby, you may not lose.

Maybe you do not, you may Nnnnnno
Maybe you never lose.

Maybe you do not, no, you may not
Maybe you never lose.

Maybe you do not, you may Nnnno
Maybe you never lose.
fuente: musica.com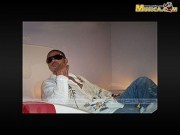 Ficha de la Canción
Título:
QUE GANAS DE AMARTE (ENGLISH LYRICS)
Grupo/Cantante:
EL ROOKIE
Letra añadida por:
snake eater