Letra de la canción
Babe come on.

Mojige usur gorchyo ibgo angyongdo su go
I got you norur wihe neck tile manjigoso
Gudega wonhanun narur mandurge (sarchag) mollaboge
Jepalli narur bakuge.

Dubonche bursug natanago shisondo kurgo
You got me shingyong suge hanmadir donjigo
Nege kullyo dunun norur mandurge (jomdo) pajyo durge
Ni ane narur nukige.

Memurchage nege kullyo dunun norur meuduge
Nege sodajinun shison noro gage
I love you, take me I just wanna make a style
Hanbon manimyon all right, try oso once more
I just wanna be with you all tonight.

Sebonche nunur majuchigo morunchog hago
You move umjigige chonchonhi kullyo oge
Nege daga ganun narur nukige (jaku) dugundege
Jogumshig negero oge.
Memurchage nege kullyo dunun norur meuduge
Nege sodajinun shison noro gage
I love you, take me I just wanna make a style
Hanbon manimyon all right, try oso once more
I just wanna be with you all tonight.

Shigani dagawasso na jigumiya
Negero gane non nege ora hane
Sorjighan maumur marhe ni kullinun maumur.

Babe come on...

Majimag ije thega dwesso nege dagaga
I want you norur wonhe moshige marhagoso
Imi argo isso noui maumur jongmar kuthnejuge
Ijenun nege pajige.

Memurchage nege kullyo dunun norur meuduge
Nege sodajinun shison noro gage
I love you, take me I just wanna make a style
Hanbon manimyon all right, try oso once more
I just wanna be with you all tonight. /x2
fuente: musica.com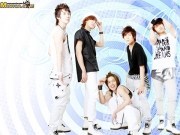 Compartir 'Four Chance'