Letra de la canción
Mataseta na Honey soko no ke Wanna be
I'm a japanese crazy 21st century Boy no kenzan nari
Tsuite oide yo Misete yaru ze Zekkei o
V.I.P. na tokutouseki ni Sweet na shi (kiss?) de Koyo mo kimi o T.K.O

Sechigarai Kono ukiyo Nigori no nai Kimi no hitomi (eyes) ni
Tsuki no hikari Utsuru kagiri Esoragoto (yume) Egakitsuzukeru yo

Kurikaesu jidai no naka de
Bokura wa nandomo nandomo kizu tsukeatte,
Soredemo aishiai,
Yorisotte wa hikisakarete yuku

Tell me why... is this my life? Tell me why...
Hey please darling,
say that's a lie, and we'll be able to see
each other again in the next world.
Boku no kurushimi ga kimi no shiawase nara
Nanda'tte yorokonde ukeirete miseru sa
Hanareru koto ga futari no tame nara
Koko kara zutto zutto inotteru yo
Tooi kioku no naka de waratteru
Kimi to no omoide wa iroaseru koto naku
Tatoe unmei ni yurusarenakutemo
Itsu made mo boku wa kimi dake no Super Hero.

Tell me why... is this my life?
It's a lie...
Gimme pride, so that we can fly.
Won't be cryin' no more.
fuente: musica.com
Letra añadida por: babiii.x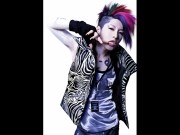 Compartir 'SuperHero'