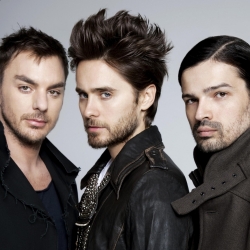 LETRA 'KINGS AND QUEENS'
Into the night
Desperate and broken
The sound of a fight
Father has spoken
(lots of ooooh oh whoa oooohs that I don't care for so much)
We were the Kings and Queens of promise
We were the victims of ourselves (can't understand this word right now)
Maybe the Children of a Lesser God (good movie!)
Between Heaven and Hell (great poem)
Heaven and Hell
Into your lives
Hopeless and Taken (another good movie!)
We stole our new lives
Through blood and pain
In defense of our dreams
In defense of our dreams (like the way these lines sound!)
We were the Kings and Queens of promise
We were the Phantoms of ourselves (what is this darn word?)
Maybe the Children of a Lesser God (movie, good!)
Between Heaven and Hell (Blake good!)
Heaven and Hell
The age of man is over (Oy, Shakespeare even!)
A darkness comes and all (Not sure about the all but it sound like it)
These lessons that we learned here
Have only just begun
We were the Kings and Queens of promise
We were the victims of ourselves
Maybe the Children of a Lesser God
Between Heaven and Hell
We are the Kings
We are the Queens
We are the Kings
We are the Queens (neato scream yell there, though it'll be hated)
Sobre Kings and Queens
"Kings and Queens" es el tercer tema del tercer álbum de estudio de Thirty Seconds to Mars, This is War. Una canción sobre los sueños tontos que tenemos en nuestros días de infancia/adolescencia. La gente sigue empecinada en una idea estúpida, pero nosotros no escuchamos, queremos que se hagan realidad igualmente, sin pensar en las consecuencias. Pero si sale mal, es culpa nuestra, "fuimos víctimas de nosotros mismos".
Según Leto, la letra de "Kings and Queens" explora el sentimiento triunfante de las posibilidades humanas.

La canción fue lanzada como el single principal de This is War el 13 de octubre de 2009.
La melodía de la canción contiene varias cualidades similares a las de las obras musicales contemporáneas adultas de los años ochenta.
Apoyar a 30 Seconds To Mars
30 Seconds To Mars no está entre los 500 artistas más apoyados y visitados de esta semana, su mejor puesto ha sido el 29º en octubre de 2007.

¿Apoyar a 30 Seconds To Mars?

Ranking SemanalMedallero