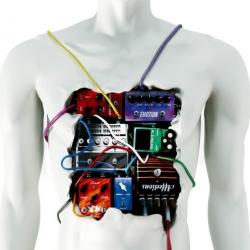 LETRA
Romaji:

"hey brother, I got something to say yeah
sono teage everybody, right now!
hey sister, are you looking my way yeah
doesn't matter whatever they say

kieru mono to kienai mono hitotsu zutsu wo
mochi awaseta nanto mo nikui boku
hibi no naka de wasuretari otoshitari shite ita mono wa
jitsu wa boku ga kisekaete ita

yoseru hito no nami no naka ja nan mo kitzukenakute
kaesu nami no naka de nani ka satori kitzuita ah

20 years old and you gotta let me know?
nani kara nani wo kisekaete kite nani wo gisei ni shita no?
moshimo kitzukazu susumu tsutzuke juu nengo no boku wa dou naru no?
somebody I would never want to be
"doushite ka wa wakarazu na" no no no!!
kitzukeba hora!! boku no naka ni aru ikutsuka no mono wa
mou kako to kuraberarete
kanjita mono subete ga takaramono no hazu na no ni
tsukihi tateba akiru no wa naze na no?

yoseru hito no nami wa tada tada awatadashikute
kaesu nami wa jitsu wa sabishisa shikanai…

20 years old and you gotta let me know?
nani kara nani wo kisekaete kite nani wo oitekite ita no?
kitzuku hazu no mono miotoshite yokei na koto ni kitzuiteru yo na
sonna kimochi ni naru no!!
"I think I'm going crazy" no no no!!

nijuu nengotta kono boku wo dare ga mitome dare ga kenashite
izuko e boku wa tsurete karete shimau no?
naraba hachijuu nengo no jibun wa ittai dare ni kemutaku omoware
kisetsuhazure no hito ni naru no?

20 years old and you gotta let me know?
nani kara nani wo kisekaete kite nani wo gisei ni shita no?
moshimo kitzukazu susumu tsutzuke juu nengo no boku wa dou naru no?
somebody I would never want to be
doushite ka wa wakaranai no…

dekiru koto naru boku wa koko de kimi to zutto soba ni itai no…
fuente: musica.com


X
Ir al playlist de 'One Ok Rock'
Artistas relacionados