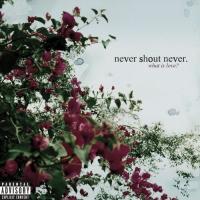 What is love? Letra
Añadir a Favoritas
Guardar en Playlist
WHAT IS LOVE? es una canción de Never Shout Never que se estrenó el , este tema está incluido dentro del disco What Is Love?.
Letra 'What is love?'
In a sitch like tihs
you gotta think and I don't think you
think about the way he thinks
And I know you live life
For yourself
But it all comes down to
the way you help
And I know your life is such a hell
you wake up early and you work until
you have your drinks at 5 o'clock
The hours blend and your thoughts
all haunt your hopes, your dreams
your everything
Well, mama, I hope
I dream that you won't leave
And I have a question:
What is love?
What is love?
Oh, oh oh oh-oh-oh
Is it giving up?
'Cause that's not how you
raised me, yeah.
In a sitch like this you gotta think
and I don't think you think
about the way she thinks
and I know you work hard everyday
but it all comes down
to the way you're paid
And I know you're oh so sorry dad
I truly believe that you're a better man
than to share one kiss and then walk away
from the love you come home everyday
your hopes, your dreams, your everything
Well daddy, I hope, I dream
that she won't leave
And I have a question:
What is love?
What is love?
Oh, oh oh oh-oh-oh
Is it giving up?
'Cause that's not how you
raised me
And what is love?
What is love?
Oh, oh oh oh-oh-oh
See, I don't know anymore
I used to look
up to
that love