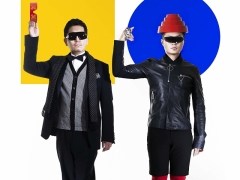 Dopamine
Letra y Canción
Añadir a Favoritas
Guardar en Playlist
DOPAMINE es una canción de M-Flo.
LETRA
'Dopamine'
Can you feel my body la-la-la-la
You & I dokomademo
Can't control it mou jiki hitotsu
Ni natte fly away
Yes!! I'm one of the best yet!
Shiranai kimi ni baka I'mma crash the set...yup!
Itsumo fresh na bapesta de stage
Tatenakya hajimarimasen... Souzou zessuru
Rhythm de boom! Chibiri chotto check it out!
"Bakyuun! Bakyuun!" Au! "zabuun!" teki na
Hizunda chun...Ka.ka.kanpeki da!
Aha! At your own risuku if you wanna enter!
Torokeru you na kiss shitai kyou kono goro
Demo hajiketeru boy inakute
Itsumo nara waratte gomakashiteru kedo
Kimochi wa can't deny
Dareka come get me imasugu
Imasugu saratto saratte (ok) ukemi no kimi (huh?)
She's only sixteen
My alarm is ringing
Got no time jikan nai till you get!
Sukoshi crazy kamo shirenai
Can you hear my heart sing la-la-la-la
Kimi wa (do-do-do-dopamine!) Doko yara?
Sagashi ni kite, wherever you are
Soshite fly away (a ararara a a yeah!)
Into outerspace
Monday osamannaide genjou tte nande
My funday still it's just begun jaa escalate
Hora ichiichi I don't wanna be amazed
I don't wanna need a change
Ka to itte don't stay tha same
Yo baby just find a kimi ni au phrase
Seme no panchi kiita yatsu like a car chase
Magenta cafe osshare lay back
Kyunto haato iyashi kei or whatever c'mon!
Hey! I'll call you up koi yo no manual
Pay nara ato de kinka chokore-to (wa!)
Mannequns, replicants, pimps, psychos
Terrible animals saa shura outside da haijo
Hitsuyou ijou ni ain warai surun ja nakute mate
Kyoumei shiaeba sou it's gonna be ok
Kids & heads tsunage dot to tha dot
'Cuz everybody happy nowadays
Can you feel my body la-la-la-la
You & I (do-do-do-dopamine!) Dokomademo
Can't control it mou jiki hitotsu
Ni natte fly away (a ararara a a yeah!)
Into outerspace
"Baby come over" amai koe ni yobidasarete
Sasowaretara I can't say no
Te wo tsukande dakishimete hoshii keredo
Tell me are you that somebody?
Let me take you on a ride kore wa zekkyou mashiin
And release "do-do-do-dopamine!"
You nahmsayin'? Ore no itteru koto wakarimasu ka?
Linguini pasta?
Kuuchuufuyuu at jaxa, zero g, extreme!
Chuu ni mau kimi to me,we sexy!
Yup! Kono technology's domestic
Take ozaseki take off! Sekkin
When I step, you see my oukan no ring
Dekakete pikkuri, mou sanso thin (hii!)
Ukiyo banareshita ko to wannabe
Together, mama mia! She's chouhatsuteki, uh!
V-E-R-bizzle-a lizzle
Collect dues like mandaginjiroo
For real-o, miro, ikken wa hyaku moji
Next time you see me, holla like you know me!
Are you there, kikoeteru nara
Yup! I'm on the other line bakudai na denwa-dai for you
But I got all of this and more just to shock your mind
Hitome mireba
I'm tha one you've never seen before
Atemonai imaginary boy...
Can you hear my heart sing la-la-la-la
Kimi wa (do-do-do-dopamine!) Doko yara?
Sagashi ni kite, wherever you are
Soshite fly away (a ararara a a yeah!)
Into outerspace
Da-na-na-na…da-na-na-na…
Dakara I told you, you're wagamama
Da-na-na-na…da-na-na-na... The beginning of you & i's koko kara
Can you feel my body la-la-la-la
You & I (do-do-do-dopamine!) Dokomademo
Can't control it mou jiki hitotsu
Ni natte fly away (a ararara a a yeah!)
Into outerspace
Can you hear my heart sing la-la-la-la
Kimi wa (do-do-do-dopamine!) Doko yara?
Sagashi ni kite, wherever you are
Soshite fly away (a ararara a a yeah!)
Into outerspace