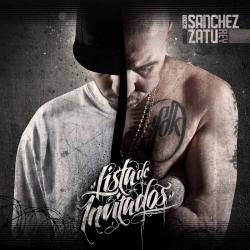 Curro y Sacrificio
en inglés
LETRA
The age made me harder
there are constant bats.
The neighborhood has duly sealed locking up the bad.
We provide with shakes and marshmallow treats.
We are a car illegally parked in a ford. (x2)

[Darmo]
No signs and no stops ringing mobile, men,
That is a sign that things are going well.
I spent hardship but today in the top 10.
A lot of work and sacrifices, dreams traveling on a train.
Many crave waiting on a platform
Another night and day, they made promo from Prota to Bailen.
Come, my true red ten, ten
I know your mojo A13 too.
(...) In which was Grimey Grimey.
My family is what has been said here.
31 Today I could be your daddy and
to show you what it takes to get the stylus.
I lost my piva is dechito and health.
It can not be losing everything you criticize me for you.
I brought attitude, I am the voice, I am the cross
and try to reach the coffin with dignity.
[CHORUS & Alba]
It's easy, let me explain,
in every song works striper
Give me that ritmaco let what spoiling.
Make no mistake everything is a battle,
everything is a treat. (x2)

[Zatu]
I go out and leave home damage,
I jumped so many times I know the cliff.
The song is called gigs and sacrifice no more.
Letters in the mailbox are citations to trial.
I have a child at home and crying for me.
I'm on the other side of the pond cursing my office.
Given that initially work mc.
And these people have pasta for cd,
but if for their vices.
I want out of here, go up one floor,
it will not take more times if I look and analyze it.
If I irritates the shit that you are releasing is my mother
is greater currando a pittance.
You want to test a king really? Can I see what works?
Then you have a brown, each song is a single.
You can not remove the poop without being smeared.
I live repented and surf weekend.
[CHORUS & Alba]
It's easy, let me explain,
in every song works striper.
Give me that ritmaco let what spoiling.
Make no mistake everything is a battle,
everything is a treat. (x2)

The age made me harder
there are constant bats.
The neighborhood has duly sealed locking up the bad.
We provide with shakes and marshmallow treats.
We are a car illegally parked in a ford. (x4)
fuente: musica.com


X
Artistas relacionados