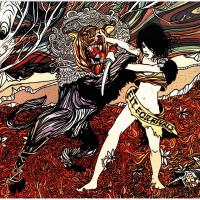 Hallelujah Letra
Añadir a Favoritas
Guardar en Playlist
HALLELUJAH es una canción de Fit For Rivals del año 2009, este tema está incluido dentro del disco Steady Damage.
Letra 'Hallelujah'
What you want from me.
What I want from you.
There's no working it out.
Take your hands off me.
This just cannot be.
I've got someone waiting outside.
Your tears coagulate, dear this is our fate.
Just get the hell away from me.
Sorry I'm a bitch, can't ever work through it.
Let's take the easy way out.
One last time and one good story.
Scream hallelujah, scream hallelujah.
Once for the time you never came.
One more time and one for history.
Scream hallelujah, scream hallelujah.
There's just no easy way out.
There is no memory.
In which I can see.
That even vaguely matters to me.
Don't know what to do.
Something I can't refuse.
That keeps me coming back to you.
It's not that I don't care.
I know that I'm not fair.
No honesty between me and you.
It comes down to this, one half hearted kiss.
Lets take the easy way out.
You think you've figured me out, I'm on my way outta town.
And if you had any clue, I think you'd know what to do.