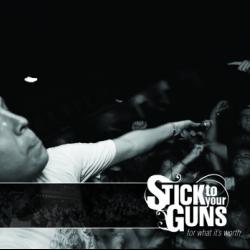 A poor mans poor sport
Stick To Your Guns
La canción 'A poor mans poor sport' se estrenó el . Este tema está incluido dentro del disco For What It's Worth
Al final de la letra podrás puntuar su calidad, comentar sobre ella, acceder a más canciones de Stick To Your Guns y a música relacionada.
LETRA
A poor mans poor sport we've fallen short of reasoning.. sex
does not determine capability.. but we let our hostility be
our guide to decide what's right for a girl and for a guy..
because every sex is just as able to keep this foundation
stable.. enough is enough speak up its tough but don't think
that your unable..
let acceptance be our key to unlock our integrity.. from
there we'll be able to see that there's more than just
she and he.. no longer constrained by insecurity chauvinism
aside we'll let acceptance be our guide..
once this is done progression will come.. time and time
again we take a step back from where we began.. I cannot
stress this enough cannot run this course without you..
like its been said before two heads are better than one..
no apology just equality it takes a fool to see that a girl
isn't equal in the world..
never again.. there minds constrained voices retained our
hearts beat the same they've been here just as long and
they're just as strong.. just as long.. still going strong..
overcome.. I can only hope that you'll overcome.. stand
up be strong.
Más abajo podrás valorar y comentar la canción A poor mans poor sport.
Puntuar 'A poor mans poor sport'
¿Qué te parece esta canción?
-
0 votos
* Gracias a n0_7 por haber añadido esta letra el 23/11/2010.
Comentar Letra
Comenta o pregunta lo que desees sobre Stick To Your Guns o 'A poor mans poor sport'
Comentar
+ Stick To Your Guns
Canciones del Disco
Música Relacionada