THE BALLAD OF MONA LISA
She tapes her fingers with a close position.
He start to notice empty bottles of gin.
And takes the money to accept the sins she's paid for.

A lonely speaker in a conversation.
Her world it's swinging to his ears again.
There's nothing wrong with just a taste of what you paid for.

Say what you mean, tell me i'm right.
And let the sun lay down on me.
Give me a sign, i wanna believe.
Whoaaaaa Mona Lisa, you're guaranteed to run this town.
Whoaaaaa Mona Lisa, i'd paid to see you frown.

He sent to something calling desperation.
Another dollar, another day.
And if she had the proper words to say she would tell
him that she had nothing left to say him.
Say what you mean, tell me i'm right.
and let the sun lay down on me
Give me a sign, i wanna believe.
Whoaaaaa Mona Lisa, you're guaranteed to run this town.
Whoaaaaa Mona Lisa, i'd paid to see you frown.

Oh, no this oh yeahhh.
Say what you mean, tell me i'm right.
and let the sun lay down on me
Give me a sign, i wanna believe.
Whoaaaaa Mona Lisa, you're guaranteed to run this town.
Whoaaaaa Mona Lisa, i'd paid to see you frown. (come here!)

Say what you mean, tell me i'm right.
and let the sun lay down on me
Give me a sign, i wanna believe.

There's nothing wrong with just a taste of what you paid for.
fuente: musica.com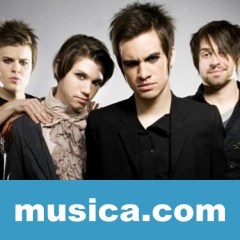 Ficha de la Canción
Título:
THE BALLAD OF MONA LISA
Grupo/Cantante:
PANIC! AT THE DISCO
Letra añadida por:
patdarg
Año de la canción:
2011
Letra escrita por:
BRENDON URIE,BUTCH WALKER,JOHN FELDMANN,SPENCER SMITH
Letra publicada por:
SONY/ATV MUSIC PUBLISHING LLC