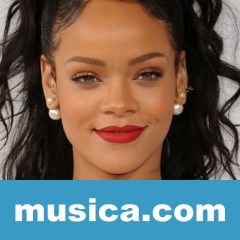 LETRA 'ALL OF THE LIGHTS'
All of the lights (all of the lights)
(Lights, lights)
All of the lights (all of the lights)
[Rihanna]
Turn up the lights in here baby
Extra bright, I want y'all to see this
Turn up the lights in here, baby
You know what I need
Want you to see everything
Want you to see all of the lights
(all of the lights)
Fast cars, shooting stars
(all of the lights, all of the lights)
Until it's Vegas everywhere we are
(all of the lights, all of the lights)
If you want it you can get it for the rest of your life
If you want it you can get it for the rest of your life
[Kanye West]
Something wrong
I hold my head
MJ gone...our n-gga dead!
I slapped my girl, she called the feds
I did that time and spent that bread
I'm heading home, I'm almost there
I'm on my way, heading up the stairs
To my surprise, a n-gga replacing me
I had to take 'em to that ghetto university
[Chorus]
All of the lights
Cop lights, flash lights, spot lights
Strobe lights, street lights
(all of the lights, all of the lights)
Fast life, drug life
Thug life, rock life
Every night
(all of the lights)
[Rihanna]
Turn up the lights in here, baby
Extra bright, I want y'all to see this
Turn up the lights in here, baby
You know what I need, want you to see everything
Want you to see all of the lights
[Kanye West]
Restraining order
Can't see my daughter
Her mother, brother, grandmother hate me in that order
Public visitation
We met at Borders
Told her she take me back
I'll be more supportive
I made mistakes
I bump my head
Courts suck me dry
I spent that bread
She need a daddy
Baby please, can't let her grow up in that ghetto university
[Chorus]
All of the lights
Cop lights, flash lights, spot lights
Strobe lights, street lights
(all of the lights, all of the lights)
Fast life, drug life
Thug life, rock life
Every night
(all of the lights)
[Rihanna]
Turn up the lights in here, baby
Extra bright, I want y'all to see this
Turn up the lights in here, baby
You know what I need, want you to see everything
Want you to see all of the lights
[Kid Cudi]
Getting mine, baby
Gotta let these n-ggas know, yeah
Get it right, ay
You should go and get your own
Getting mine, baby
Gotta let these n-ggas know, yeah
Get it right, ay
You should go and get your own
[Fergie]
Unemployment line, credit card declined
Did I not mention I was about to lose my mind?
(my mind, my mind, my mind)
And also was about to do that line
Okay, okay, you know we going all the way this time
(this time, this time, this time)
We going all the way this time
(time, time, time, time)
We going all the way this time
We going all the way this time
We going all the way this time
Turn up the lights in here, baby
Extra bright, I want y'all to see this
Turn up the lights in here, baby
You know what I need, want you to see everything
Want you to see all of the lights
[Alicia Keys]
Whoaa-oh-whoa
Whoaa-oh-whoa-oh
[Elton John]
I tried to tell you but all I could say is ohhhh
[Alicia Keys]
Whoaa-oh-whoa
Whoaa-oh-whoa-oh
[Elton John]
I tried to tell you but all I could say is ohhhh
[Alicia Keys]
Whoaa-oh-whoa
Whoaa-oh-whoa-oh
[Elton John]
I tried to tell you but all I could say is ohhhh
Sobre All Of The Lights
"All of the Lights" es el cuarto sencillo del quinto álbum de estudio de Kanye West, My Beautiful Dark Twisted Fantasy.
La canción trata de los reparos de Kanye para vivir como una celebridad con problemas personales en el ojo público. Lo transmite a través de la imagen de las luces y la historia de una familia con problemas; maltrato doméstico, encarcelamiento, separación/divorcio, etc. La canción sirve como una historia literal de problemas en el hogar, y también como una metáfora de las luchas de Kanye con la fama y su relación con el hip-hop.
Aunque la canción tiene contribuciones de otros 14 artistas de renombre (incluyendo a Drake, Alicia Keys, John Legend, y más), están listados como vocalistas adicionales en las notas de la canción. Rihanna es la única acreditada como la artista destacada en el single.
Después de su lanzamiento, Kanye dijo que había trabajado durante más de 2 años en la canción, trabajando con muchos otros artistas porque simplemente no podía encontrar uno.
Apoyar a Rihanna
Rihanna está en la posición 140 del ranking de esta semana, su mejor puesto ha sido el 1º, siendo su primera vez en diciembre de 2012 y la más reciente en febrero de 2013.

¿Apoyar a Rihanna?

Ranking SemanalMedallero