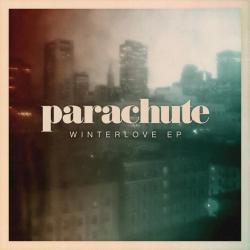 Winterlove LETRA
Parachute
Añadir a Favoritas
'Winterlove' se estrenó el . Este tema está incluido dentro del disco Winterlove EP
Al final de la letra de Winterlove podrás comentar sobre ella o acceder a más canciones de Parachute y a música relacionada.
Oh it's one more year of waiting,
One more month of all alone,
One more day is fading,
just bring me back my winterlove.
Spring goes by so slowly,
Summer cant come fast enough,
Fall can leave me lonely,
Just bring me back my winterlove.
Oh i slept in every city,
Drove through every countryside
Made friends with the shadows
Looking for a place to hide
And ive crossed every ocean
and ive climbed every mountaintop
Oh, but nothing seems to hold me
hold me like my winterlove
and the world keeps going
as you kiss me so slowly
as your blue eyes they say goodbye

oh the snow is finally falling
when i walk the streets, i think of her
i can hear the choir singing
as i pause beside the open door
and the church bells sound above me
and the people pass me one by one
oh its midnight now on christmas
and im here without my winterlove
yeahhhhhhhhh
without my winterlove
when the angels come to take you
when your plane takes off from washington
oh, ill be right where you left me
ill wait for you my winterlove
oh ill wait for you my winterlove
oh ill wait for you my winterlove
Más abajo podrás valorar y comentar la canción Winterlove.
Puntuar 'Winterlove'
¿Qué te parece esta canción?
-
0 votos
* Gracias a AdriRanis por haber añadido esta letra el 28/4/2011.
Comentar Letra
Comenta o pregunta lo que desees sobre Parachute o 'Winterlove'
Comentarios (2)
+ Parachute
Canciones del Disco