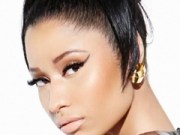 LETRA
'Famous'
Chorus
What the hell i´m famous (x3)
We go to the store whores
Dj María
I´m on the red carped glittering
I love the paparazzi today
take pictures everywhere
i have to hide
well for anyone to catch me
and do not let me breathe
yes
Chorus
Waht the hell i´m famous (x3)
We go to the store whores
Nicki Minaj
I'm always the journal
I leave the covers
let the whores out
I want to dominate
they think I'm pathetic
I can not do anything right
Today I tell you girls or sluts?
Chorus
What the hell i´m famous (x3)
We go to the store whores
Dj María
And not to do
There are paparazzi everywhere
persecute me, I can not stand
I do not know what to do
fans are crazy
today and forever haunt me
on the day at night
I'm going to kill
(Nicki Minaj Rap)
F*** you, f*** you
f*** no more
I hate and despise you
Animal filthy rat
I'm sick I'm going to kill
I can not even
and toilet
f*** me now
fuc*** bitch leave me alone
one day please!
if you hit, I demand
if I do, kill me now
I do not know what to do, f*** you once!
(Dj María)
I do not know what to do with do with so many paparazzi's
you better shut up or I'll get into the ass of you bitch!
Chorus
Wath the hell i´m famous (x3)
we go to the store whores
(x3)
Apoyar a Nicki Minaj
Nicki Minaj no está entre los 500 artistas más apoyados y visitados de esta semana, su mejor puesto ha sido el 9º en abril de 2020.

¿Apoyar a Nicki Minaj?

Ranking SemanalMedallero