MILES AWAY
Memphis May Fire
Letra de la canción
I pack my bags and say goodbye to my wife
For what seems like the millionth time.
They said it gets easier, but they lied.
She looks at me and says "Really baby, I will be just fine."
But then she looks away so I don't have to see her cry.
And that is when I ask myself,

How am I supposed to be everything they expect me to be?
When I feel so alone, because I left my heart at home.
She needs me, But I know they need me too.
So god give me the strength to do, what you created me to do.

Well really I'm so thankful for the people I meet, the places I've been and the things I've seen.
But when she's not here it doesn't feel like I'm living my dreams.
I know they say, that no one is perfect, but I swear she's perfect for me.
And that makes it so much harder to leave.
How am I supposed to be everything they expect me to be?
When I feel so alone, because I left my heart at home.
She needs me, But I know they need me too.
So god give me the strength to do, what you created me to do.

[Kellin]
If you miss me, I'm just a phone call away.
Please be strong, Be strong for me.
I need you to show me, how to the change the inside of me
For my heart, for their sake, please be strong, be strong for me.

How am I supposed to be everything they expect me to be?
When I feel so alone, so alone.

How am I supposed to be everything they expect me to be?
When I feel so alone, because I left my heart at home.
She needs me, But I know they need me too.
So god give me the strength to do, what you created me to do.
fuente: musica.com
Letra añadida por: burningskull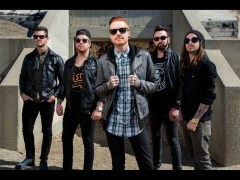 Compartir 'Miles Away'