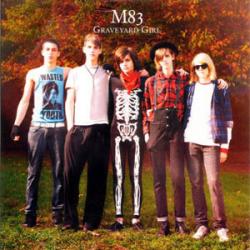 Graveyard Girl
M83
La canción 'Graveyard Girl' se estrenó el . Este tema está incluido dentro del disco Saturdays = Youth
Al final de la letra de la canción 'Graveyard Girl' podrás puntuar su calidad, comentar sobre ella, acceder a más lyrics de M83 y a música relacionada.
LETRA
Death is her boyfriend
She spits on summers and smiles to the night
She collects crowns made of black roses
But her heart is made of bubble gum
Graveyard girl
Dark rags and red stars
She's the dirty witch of her high school
She worships Satan like a father
But dreams of a sister like Molly Ringwald
"I'm gonna jump the walls and run
I wonder if they'll miss me?
I won't miss them
The cemetery is my home
I want to be a part of it,
Invisible even to the night
Then I'll read poetry to the stones
Maybe one day I could be one of them
Wise and silent
Waiting for someone to love me
Waiting for someone to kiss me
I'm fifteen years old
And I feel it's already too late to live
Don't you?"
I can't help my love
For Graveyard Girl
Más abajo podrás valorar y comentar la canción Graveyard Girl.
Puntuar 'Graveyard Girl'
¿Qué te parece esta canción?
-
0 votos
* Gracias a CaritoDarcy por haber añadido esta letra el 20/7/2012.
Comentar Letra
Comenta o pregunta lo que desees sobre M83 o 'Graveyard Girl'
Comentar