Me Volvi a Enamorar english lyrics
Letra de la canción
One night I dreamed,
To the woman I wanted to have,
His manner struck me,
Were sparks, could not believe, with my love Dream

She was what I wanted more, because the heart's love,
And now that I woke up from that dream,
Not be able to love that woman
Because I sonee!

It was a dream, so love her,
Wanting so as usual,
Alone in my bed,
I woke up crying crying

I would like to see her again,
But in truth as my beloved,
Alone on the beach and not be alone dreaming

NO-TA LO-KOS!

I turned to love!
I keep thinking of you,
I do not wanna be wrong,
I'm afraid to reality!
Just stay away my life,
You're a fantasy!
I start forgetting,
You're a sweet girl, my life!
As'll do to forget,
And will do to get away from me,
If you're on my mind day and night,
And will do to rip
And will do to get away from my
If you are in my life are my dream my LOVE
fuente: musica.com
Letra añadida por: elibarmaxi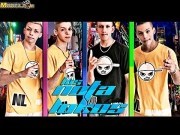 Compartir 'Me Volvi a Enamorar english lyrics'