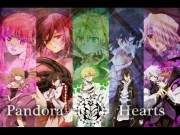 Maze
en inglés
Añadir a Favoritas
Guardar en Playlist
MAZE es una canción de Pandora Hearts.
Maze (en inglés)
No longer, if I can believe in love
And hearing promises of eternity
Only you provoke me sigh
Like sweet you
NOW, I'm tired of waiting
I would go to the beautiful country that I dreamed this time
Where do I go? (What am I doing here in this solitude?)
How I can cross this cold dark colored?
An endless melody, guide me making my heart beat
My life is like a clock whose energy died (A watch blight)
But whose hands move you my love
If you're real, you'll always be the labyrinth in which I live
Before me, there are thousands of dreams
And a cat urging me to follow
Everything happens in a magical, absurd and tragic
No! All this confusion, anger signals and this terrible pain
What happened?
Where am I? (I'm here beside you)
Where am I and who am I, am a prisoner has been lost
I no longer mourn for solitude, save me from this nightmare
The queen of hearts (Give me faith, to follow)
My start blocking, but he remains a voice inside me when witch
There is no end, but always the labyrinth in which I die
I even sleep on that hill
In which you can reach the moon
So take down its light, to see you again
And I can have the opportunity to speak
Where do I go? (What am I doing here in this solitude?)
How I can cross this cold dark colored?
I just want to go with no more fear on this road full of thorns
I'll try to believe in dreams of yesterday (Give me faith, to follow)
And for the end of a beautiful day all will
If you're real, you'll always be the labyrinth in which I live