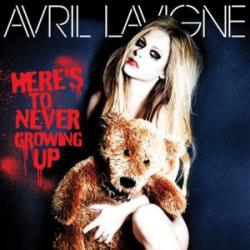 Here's To Never Growing Up
Letra
LETRA
Here's To Never Growing Up (Letra/Lyrics)
Singing Radiohead at the top of our lungs
With the boom box blaring as we're falling in love
I got a bottle of whatever, but let's get in this truck
Singing, here's to never growing up
Call up all of our friends
Go hard this weekend
For no d**n reason
I don't think we'll ever change
Meet you at the spot
Half past ten o'clock
We don't ever stop
And we're never gonna change
Say, won't you say forever
Stay, if you stay forever
Hey, we can stay forever young
Singing Radiohead at the top of our lungs
With the boom box blaring as we're falling in love
I got a bottle of whatever, but let's get in this truck
Singing, here's to never growing up
We'll be running down the street yellin' kiss my (hey!)
I'm like yeah whatever, we're still living like that
When the sun's going down we'll be raising our cups
Singing, here's to never growing up
Oh-Oh
Here's to never growing up
Oh-Oh
Here's to never growing up
We live like rockstars
Dance on every bar
This is who we are
I don't think we'll ever change
They say just grow up
But they don't know us
We don't give a f***
And we're never gonna change
Say, won't you say forever
Stay, if you stay forever
Hey, we can stay forever young
Singing Radiohead at the top of our lungs
With the boom box blaring as we're falling in love
I got a bottle of whatever, but let's get in this truck
Singing, here's to never growing up
We'll be running down the street yellin' kiss my (hey!)
I'm like yeah whatever, we're still living like that
When the sun's going down we'll be raising our cups
Singing, here's to never growing up
Oh-Oh
Here's to never growing up
Oh-Oh
Here's to never growing up
Say, won't you say forever
Stay, if you stay forever
Hey, we can stay forever young
Singing Radiohead at the top of our lungs
With the boom box blaring as we're falling in love
I got a bottle of whatever, but let's get in this truck
Singing, here's to never growing up
We'll be running down the street yellin' kiss my (hey!)
I'm like yeah whatever, we're still living like that
When the suns going down we'll be raising our cups
Singing, here's to never growing up
Oh-Oh
Here's to never growing up
Oh-Oh
Here's to never growing up
Oh-Oh
Here's to never growing up
Oh-Oh
Here's to never growing up
Datos de esta canción
HERE'S TO NEVER GROWING UP es una canción de Avril Lavigne del año 2013, este tema está incluido dentro del disco Avril Lavigne. Agradecemos a AvriilPuunk por haber sudido la letra de Here's To Never Growing Up.
Sobre Here's To Never Growing Up
Esta canción es sobre adolescentes y jóvenes adultos que quieren ser capaces de hacer cosas que los adultos hacen (como beber y salir de fiesta) pero nunca tener que lidiar con las consecuencias. Por lo tanto, nunca quieren crecer.
"Here's to Never Growing Up" fue el sencillo principal del quinto álbum de estudio autotitulado de Lavigne. Fue lanzado el 9 de abril de 2013.
Uno de los escritores de la canción fue el ex-marido de Lavigne, Chad Kroeger de Nickelback.