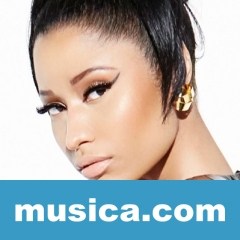 LETRA 'SHE CAME TO GIVE IT TO YOU'
Yo, he want the flirty girl, i'm the girly girl
You know who, get the worm it's the early bird
Flow, slicker than MJ, early curl
I got to clip these niggas like sterly sterl
I see him in the club, He could get the cub
i ain't talnkin about baseball but go get the glove
Don't be like OJ and forget your glove
I'm tryna get faded, ni*** go and get the drugs.
5+5 what they call that? ten
Out in Japan we be counting that, Yen
Ladies who you trying popping with? Men
No little boys in the circle of Usher
Got'em under pressure
If your girl come thru, Nicki gone crush her
And tell your man play the back like a spine
He only last six seconds like a vine.
KIAH...
Com'on, com'on, uh-uh
Yo, yo, i am Nicki M and he is Usher
All these niggas be tryna cuff her
What you know about that swiffer duset