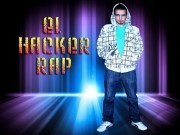 Inmortal
en inglés
LETRA
Inmortal (en inglés)
For all those people
I wanted to see rendered
And for those who look askance me
And I greet with falsehood
Hoooooou!
Here I am ... Giving face and showing
I for one am not mad
Because my Rap
My Rap ... is Immortal
I remember as a child nobody played with me
I remember I had not a single friend
I just wanted to beat me every day
And no one can imagine, as far as going to get
I can not forget when I was in love
A mine that his lies had blinded me
And my first rejection broke my heart
And here I am with my sorrows writing this song
And today I vent between Rhymes and paper
It is the only thing in life that manages to contain me
Rap is not your thing many people told me
But I did not fit my dream was only
And believe it or not, for I am alive Rap
Because many times I thought about suicide problems
Every word in Rima, saved my life
Because rap made me realize that suicide is an idiot
Many people talk without knowing what happens
I have seen him smile, but do not know whether to cry
Life kicked me and took me to grow up without a father
If I am someone in life it is only thanks to my mother
I come from humble neighborhood where I have no friends
The music brought fans ... and enemies
Because I think different and always go straight
So I'm in this ... and so I will be forever
(Chorus)
And I will be forever
And what people say
I do not really care
They said I would never come Rap
And those same who spoke, I do not stop to listen
And no one imagine that would sound in Argentina
Much less that reached Latin America
And I am the voice of my neighborhood and Rap San Luis today
Representing my province inside and outside the country
And I will not stop writing, rhyme and produce
Because I'm going to be a rapper until you have to leave
(Final Chorus)
Life in a book ... of which ...
Half of the leaves have to start ...
And so a new rewrite history and forget the bad past ...
Remember the good times ...
And missteps give them back ...
And this day I do not ... my rhymes no one can erase
Because my Rap ...
My Rap ... Is Immortal
Datos de esta canción
INMORTAL es una canción de El Hacker Rap. Agradecemos a MasterCapo por haber sudido la letra de Inmortal.