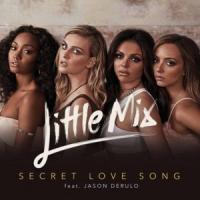 'Secret Love Song' se estrenó el . Esta canción está incluida dentro del disco Get Weird.
LETRA
'Secret Love Song'
I wish that it could be like that
Why can't we be like that?
'Cause I'm yours
When you're with him, do you call his name
Like you do when you're with me, does it feel the same?
Would you leave if I was ready to settle down?
Or would you play it safe and stay?
What's That Line?
Girl you know this, we got a love that is hopeless
Why can't you hold me in the street?
Why can't I kiss you on the dance floor?
I wish that it could be like that
Why can't we be like that?
'Cause I'm yours
And nobody knows I'm in love with someone's baby
I don't wanna hide us away
Tell the world about the love we making
I'm living for that day
Someday
Why can't I hold you in the street?
Why can't I kiss you on the dance floor?
I wish that we could be like that
Why can't we be like that?
'Cause I'm yours, I'm yours
Oh, why can't you hold me in the street?
Why can't I kiss you on the dance floor?
I wish that it could be like that
Why can't it be like that?
'Cause I'm yours
Why can't I say that I'm in love?
I wanna shout it from the rooftops
I wish that it could be like that
Why can't we be like that?
'Cause I'm yours
Why can't we be like that?
Wish we could be like that
Apoyar a Little Mix
Little Mix no está entre los 500 artistas más apoyados y visitados de esta semana, su mejor puesto ha sido el 86º en diciembre de 2013.

¿Apoyar a Little Mix?

Ranking SemanalMedallero