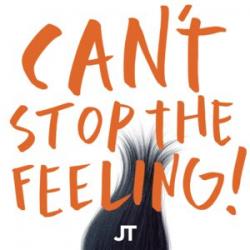 Can't Stop The Feeling
Letra
LETRA
Can't Stop The Feeling (Letra/Lyrics)
I got this feeling inside my bones
It goes electric, wavey when I turn it on
All through my city, all through my home
We're flying up, no ceiling, when we in our zone
I got that sunshine in my pocket
Got that good song in my feet
I feel that hot blood in my body when it drops
I can't take my eyes up off it, moving so phenomenally
You gon' like the way we rock it, so don't stop
Under the lights when everything goes
Nowhere to hide when I'm getting you close
When we move, well, you already know
So just imagine, just imagine, just imagine
Nothing I can see but you when you dance, dance, dance
Feeling good, good, creeping up on you
So just dance, dance, dance, come on
All those things I should do to you
But you dance, dance, dance
And ain't nobody leaving soon, so keep dancing
I can't stop the feeling
So just dance, dance, dance
I can't stop the feeling
So just dance, dance, dance, come on
Ooh, it's something magical
It's in the air, it's in my blood, it's rushing on
I don't need no reason, don't need control
I fly so high, no ceiling, when I'm in my zone
Cause I got that sunshine in my pocket
Got that good song in my feet
I feel that hot blood in my body when it drops
I can't take my eyes up off it, moving so phenomenally
You gon' like the way we rock it, so don't stop
Under the lights when everything goes
Nowhere to hide when I'm getting you close
When we move, well, you already know
So just imagine, just imagine, just imagine
Nothing I can see but you when you dance, dance, dance
Feeling good, good, creeping up on you
So just dance, dance, dance, come on
All those things I should do to you
But you dance, dance, dance
And ain't nobody leaving soon, so keep dancing
I can't stop the feeling
So just dance, dance, dance
I can't stop the feeling
So just dance, dance, dance
I can't stop the feeling
So just dance, dance, dance
I can't stop the feeling
So keep dancing, come on
I can't stop the, I can't stop the
I can't stop the, I can't stop the
I can't stop the feeling
Nothing I can see but you when you dance, dance, dance
(I can't stop the feeling)
Feeling good, good, creeping up on you
So just dance, dance, dance, come on
(I can't stop the feeling)
All those things I should do to you
But you dance, dance, dance
(I can't stop the feeling)
And ain't nobody leaving soon, so keep dancing
Everybody sing
(I can't stop the feeling)
Got this feeling in my body
(I can't stop the feeling)
Got this feeling in my body
(I can't stop the feeling)
Wanna see you move your body
(I can't stop the feeling)
Got this feeling in my body
Break it down
Got this feeling in my body
Can't stop the feeling
Got this feeling in my body, come on
Datos de esta canción
CAN'T STOP THE FEELING es una canción de Justin Timberlake del año 2016, este tema está incluido dentro del disco Trolls (Original Motion Picture Soundtrack) . Agradecemos a Ausblon por haber sudido la letra de Can't Stop The Feeling.
Sobre Can't Stop The Feeling
"Can't Stop The Feeling" es el tema oficial de la película de animación de Dreamworks, "Trolls".

Justin Timberlake hace la voz para un personaje llamado Branch, y también es el productor ejecutivo de la banda sonora de la película.
La canción está producida por los conocidos productores de éxito pop Max Martin y Shellback. Cuenta con un ritmo de jazz, uptempo y un coro de falsete.