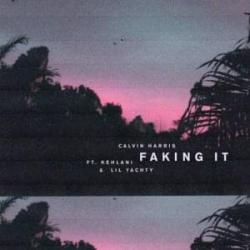 LETRA
Faking It (Letra/Lyrics)
[Kehlani:]
Pray to God, but I'm feeling like he's going deaf
Now when I lean on you and I got nothing left
Hey, I've been wanting to call you
Tell you that I'm sorry
Same old fuc*** story, everybody sings
And I say I'm okay, but I guess I'm a liar
You say you're okay, but I saw that you liked it
2 AM and faded, I know that's when you like it
Know that's when you miss me
Know that's when you crying
Why you, why you, why you checking if you're over it?
Why you, why you say "Let go" if you're still holding it?
Just a little bit better at faking it than me, baby
Just a little bit better at faking it than me, baby
Why you, why you, why you checking if you're over it?
Why you, why you say "Let go" if you're still holding it?
Just a little bit better at faking it than me, baby
Just a little bit better at faking it than me, baby
Nowadays, I'm just a bitch to everybody else
(Fuck you and you)
I don't need no shoulders, I'm good crying by myself
(Fuck you, too)
Moving on to chokers, you know I still adore ya
An unrequited love is just a lover's hell
And I say I'm okay, but I guess I'm a liar
You say you're okay, but I saw that you liked it
2 AM and faded, I know that's when you like it
Know that's when you miss me
Know that's when you crying
[Kehlani & Lil Yachty:]
Why you, why you, why you checking if you're over it?
Why you, why you say "Let go" if you're still holding it?
Just a little bit better at faking it than me, baby
Just a little bit better at faking it than me, baby
Why you, why you, why you checking if you're over it?
Why you, why you say "Let go" if you're still holding it?
Just a little bit better at faking it than me, baby (Lil boat)
Just a little bit better at faking it than me, baby
(Lil boat, Lil boat, Lil boat, Lil boat)
[Lil Yachty:]
I'm not gonna act like I don't love ya baby
'Cause deep in my mind, girl I know I do
Try to search after the water not well
But I can't find a girl that looks close like you
I had made millions of dollars
But I'm still alone 'til I come home back to you
I remember all of the times we were parked by your house and laughed out on your avenue
Oh you can't front, you're a stone cold diva
I had to get counseling from my mom, she's a heartbreak teacher
Remember that time I put those pepperonis on your face
Made you a creature
Now I think 'bout you every single time I eat pizza
[Kehlani:]
Why you, why you, why you checking if you're over it?
Why you, why you say "Let go" if you're still holding it?
Just a little bit better at faking it than me, baby
Just a little bit better at faking it than me, baby
Why you, why you, why you checking if you're over it?
Why you, why you say "Let go" if you're still holding it?
Just a little bit better at faking it than me, baby
Just a little bit better at faking it than me, baby
Why you holding me?
Why you holding me?
[Lil Yachty:]
Oh she killed that shit
She was killing it
That was hard, bruh
Didn't think she could get that high
But she killed that
Go Lani
Go Lani
Datos de Faking It
FAKING IT es una canción de Calvin Harris, Kehlani y Lil Yachty que se estrenó el , este tema está incluido dentro del disco Funk Wav Bounces Vol. 1. Agradecemos a Hawli por haber sudido la letra de Faking It.