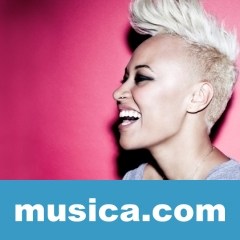 LETRA 'A HEART CAN SAVE THE WORLD'
I know you gon' think "you're crazy
Just a foolish girl"
But I believe just maybe
A heart, a heart can save the world
[Hook: Emeli Sandé]
A heart, a heart, a heart can save the world
I believe
A heart, a heart, a heart can save the world
I believe
A heart, a heart, a heart can save the world
Imagine if
A heart, a heart, a heart can save the world
Disturbing London send the whole world our love
Where did time go? How'd we use the hours up?
I'm feeling like I can make the stars light up
I'm feeling like I can make the stars light up
Before I became a star, I was wishing I was
They used to love me doing well and now it's pissing them off
Hope it hurts below the belt, like a kick in the crotch
Family of refugees is why were killing them soft
Yeah, time to thicken the plot
I know they're wishing they could bottle just a bit of my luck
Cause every time I touch the mic, it's like I'm singing for God
I give it everything I have, I fuc*** give it a lot
Kofi tell the UN we need an immigrant mob
Full of blacks, full of Irish, full of women and dogs
We need a million man march, only a million can stop
Who's gonna come and save the world, make sure the villains are got?
Tell Mr Cameron and Oprah
When people unemployed and they don't know who to vote for
We need a voice bigger than Mariah or Leona
A hero, a soldier, I think we need a donor, you know what?
A heart, a heart, a heart can save the world (yeah, you know what?)
A heart, a heart, a heart can save the world
Disturbing every city on the map this year
Know that they can feel it in the atmosphere
Lived is just the devil spelt backwards, yeah
Yeah, and I'd rather fast forward than to be in rewind
So when you puff, puff, pass, can you keep it alight?
Heard a heart can save the world, do you believe in the hype?
If you could open up the heavens, who'd you see in the sky?
Lord gimmie a sign, open my eyes 'cause I see the blind leading the blind
Kids are having kids who don't know how to read or to write
It's cause my father was a man, he chose to be in my life
Had to see an optician, helping me with my sight
Said "don't ever lose the hunger I can see in your eyes"
I told her give me mouth to mouth because I need to survive
Can you perform the CPR that's gonna keep us alive?
[Hook]
Apoyar a Emeli Sandé
Emeli Sandé no está entre los 500 artistas más apoyados y visitados de esta semana, su mejor puesto ha sido el 339º en agosto de 2012.

¿Apoyar a Emeli Sandé?

Ranking SemanalMedallero