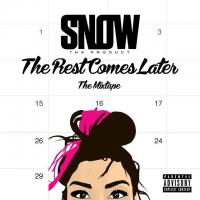 LETRA
'No Hoe'
Boys be trynna holler, girls be trynna get it
Both they flopping dollars, both of them they wishin'
Everybody loves me (x8)
Ain't nobody getting this
Boy, I ain't no ho
I met a girl named Angelina, shes from the south like Reba
She's 5 foot 5, Latina booty, R.I.P. Selena
She was like, "Girl, I like your rap, I thought I'd let you know that
If you give me a backstage pass, you can have all of this --"
And I was like, "Woah! Oh no. That ain't how it go (go)
I'm here to do shows, get this whole crowd WOKE
And look, everybody knows that ain't how it go
Yes, I will sign those, but girl I ain't no ho"
Boys be trynna holler, girls be trynna get it
Both they flopping dollars, both of them they wishin'
Everybody loves me (x8)
Ain't nobody getting this
Boy, I ain't no ho
There was another boy named Jason
He kicked it with the kids that be ravin'
He asked me what was my occupation
And I was like, "I do entertainment."
He said, "Tight. You strip? You do anything extra for tips?
Do you keep it strickly stripping' like these chicks?
Would you like to pop it for profit and see chips?"
I was like, "Woah! Oh no. I'm a rapper named Snow
Even if I did strip, it ain't no joke
I can get you prostitutes but you're gonna need to know
That a stripper's a stripper, and a ho is a ho."
Cause some girls on the low, need to learn how it go
Cause they acting hella hoeish but ain't getting no dough
Some girls broke hoes and they don't even know
I was like, "Woah! I ain't no ho"