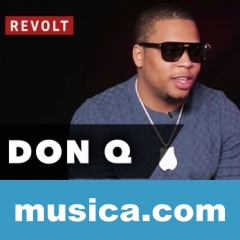 LETRA
Where did the love go?
Up on the
No more farewells, the gun blows
Shit, I'm from the jungle
[?] that Ciroc
Seem like the hood versus the cops
But ni*** that's everyday
Ay! Ay!
Gotta get paid, got to find my way
Gotta get paid, got to find my way
Nigga that's everyday
Tears in my eyes
It's been years since I cried
It's clear don't nobody really care till you die
Heart covered in ice
My charm covered in ice
Louis Vuitton dark shades cover the lights
You'll never understand until you come in my life
Highway to hell
I'm speedin', running the lights
For the love of the money, niggas kill who they love
Fill 'em with slugs
Give their momma a kiss and a hug
I'm a victim of drugs
All this liquor and bud
All this pills and this mud
Till I forget who I was
Same clothes for the whole week
Listen to my soul speaks
Cool grey
Retro J's, I got cold feet
If I'm slippin, I just need money to fall on
F*** a deal
100 mill' what I need my palms on
When the war's on, who you goin' call on?
Hundred rounds
Lay 'em down till they all gone
I came from a city where's too many deaths
Loyal niggas, there ain't too many left
It be the ones that was close to you, that was cool in your set
Have your moms read your eulogy stressed
That why my trust at a minimum
People that always doubted, I remember them
Kill all the haters and go pray to God and make amends with him
Pistols we concealing them
There's drama? We revealing them
Murder case
To Pearly Gates is where we sendin' 'em
Where did the love go?
Up on the
No more farewells, the gun blows
Shit, I'm from the jungle
[?] that Ciroc
Seem like the hood versus the cops
But ni*** that's everyday
Ay! Ay!
Gotta get paid, got to find my way
Gotta get paid, got to find my way
Nigga that's everyday
When you getting too much money then the love stop
I'm still that nappy headed ni*** from that drug block
Niggas sitting up top and they never graduated
Only picture their family got is a mugshot
Well let me tell you where I'm really from
Bitches sucking, fuc*** just to get their [?] done
I drink it till my Henny done
Paper asked by niggas that I couldn't get a penny from
In hard times, I seen a ni*** get robbed with an empty gun
It's crazy right?
Who gives a f***, at least you ate at night
A bunch of bags and a razor next to a plate of white
Saying life's a gamble
I'm taking all bets
I ain't take a loss yet
I'm a forsure threat
Niggas thinking it's a game till we at their door steps
4 TEC's, 4 Goon's, packed in a Corvette
All black
All for a small cheque
For the times that they was ballin' and we had the cold necks
Now we all set
My mind and mental is monumental
I use this pencil to tell the stories that I done been through
Ruth cris but we started on the dollar menu
Two bricks in the trunk and the police following you
Got to shake 'em off
You got to shake 'em off
You just got back on your feet
Ain't got no time to take a loss
Plus you got to pay your boss
And they brought the K-9
You on the highway flyin', just to avoid stayin' time
Nigga!
Where did the love go?
Up on the
No more farewells, the gun blows
Shit, I'm from the jungle
[?] that Ciroc
Seem like the hood versus the cops
But ni*** that's everyday
Ay! Ay!
Gotta get paid, got to find my way
Gotta get paid, got to find my way
Nigga that's everyday