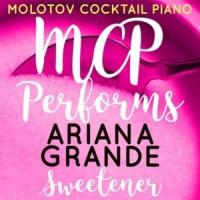 Letra de Sweetener
[Chorus]
When life deals us cards
Make everything taste like it is salt
Then you come through like the sweetener you are
To bring the bitter taste to a halt
[Post-Chorus]
And then you get it, get it, get it, get it (ayy)
Hit it, hit it, hit it, hit it (ayy)
Flip it, flip it, flip it
You make me say oh, oh (sheesh, sheesh)
Twist it, twist it, twist it, twist it
Mix it and mix it and mix it and mix it
Kiss it, kiss it, kiss it
You make me say oh, oh (sheesh, sheesh)
[Verse 1]
I like the way you lick the bowl (sheesh)
Somehow your method touches my soul (sheesh, yeah)
It lifts me up to heights unknown (ayy)
So when they ask, "How's life?" I go (sheesh, sheesh)
[Chorus]
When life deals us cards
Make everything taste like it is salt
Then you come through like the sweetener you are
To bring the bitter taste to a halt
[Post-Chorus]
And then you get it, get it, get it, get it (ayy)
Hit it, hit it, hit it, hit it (ayy)
Flip it, flip it, flip it
You make me say oh, oh (sheesh, sheesh)
Twist it, twist it, twist it, twist it
Mix it and mix it and mix it and mix it
Kiss it, kiss it, kiss it
You make me say oh, oh (sheesh, sheesh)
[Verse 2]
Your mama sent us horoscopes (sheesh)
Had so much fun watching them unfold (sheesh, yeah)
You said she like me, I smiled, I know (ayy)
So when they ask, "How's life?" I go (sheesh, sheesh)
[Chorus]
When life deals us cards
Make everything taste like it is salt
Then you come through like the sweetener you are
To bring the bitter taste to a halt
[Post-Chorus]
And then you get it, get it, get it, get it
Hit it, hit it, hit it, hit it
Flip it, flip it, flip it
You make me say oh, oh (sheesh, sheesh)
Twist it, twist it, twist it, twist it
Mix it and mix it and mix it and mix it
Kiss it, kiss it, kiss it
You make me say oh, oh (sheesh, sheesh)
[Bridge]
And then we lay it back, talk the rest of the night
Things that we can light make me say oh, oh (sheesh, sheesh)
Talking about what you wanna do, whether it's wrong or right
I am followin' you 'cause you make me say oh, oh (sheesh, sheesh)
Say, I don't know what I'd do without you in my life, it'd be so sour
I'm hoping that everybody can experience what we have in ours
[Chorus]
When life deals us cards
Make everything taste like it is salt (sheesh, sheesh)
Then you come through like the sweetener you are
To bring the bitter taste to a halt (sheesh, sheesh)
[Post-Chorus]
And then you get it, get it, get it, get it
Hit it, hit it, hit it, hit it
Flip it, flip it, flip it
You make me say oh, oh (sheesh, sheesh)
Twist it, twist it, twist it, twist it
Mix it and mix it and mix it and mix it
Kiss it, kiss it, kiss it
You make me say oh, oh (sheesh, sheesh)
You make me say oh, babe
Agradecemos a KinGrone por haber sudido la letra de Sweetener.
Sobre Sweetener
En "Sweetener", el tema principal del cuarto álbum de estudio de Ariana Grande, Ari habla de las malas situaciones de la vida y de cómo puedes traer luz y una vibración positiva para "endulzarlas". El tema recuerda mucho a una canción de soul hip-hop de los 90, pero con elementos del Trap moderno.
La canción fue nombrada en su video musical "No Tears Left To Cry", y fue insinuada de nuevo en el video "No Tears Left To Cry (BTS - Part 2)". Este tema fue grabado y escrito en julio de 2016.