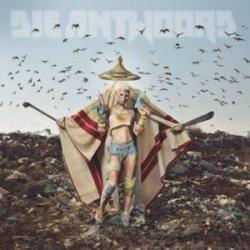 Wings On My Penis
Die Antwoord
La canción 'Wings On My Penis' se estrenó el . Este tema está incluido dentro del disco Mount Ninji and da Nice Time Kid
Al final de la letra de la canción 'Wings On My Penis' podrás puntuar su calidad, comentar sobre ella, acceder a más lyrics de Die Antwoord y a música relacionada.
LETRA
Dear God, when I wake up, please can I have wings on my penis? Amen
Uh! Yo! Huh! Yeah! Let's do this!
Hey, yo, f*** this shit, I prayed to God but he forgot this kid
Woke up and I was like, "I can't believe this, still ain't got no wings on my penis!"
Penises are awesome! Penises are cool! Draw penis on the wall, draw penises at school, I draw a penis on the menu and all over place
Sneak over when you're sleeping, draw a penis on your face
Yeah motherfuc***! Lil Tommy Terror
Will I ever stop drawing penises? Never!
Yo! Will I ever stop cursing? Maybe! NOT!
If you don't like it, f*** you!
I prayed so hard, I even prayed to Jesus I even wrote to santa claus but all I got is sneakers!
I don't want these Nike's, I don't want Adidas, all I want is wings on my mother-fucking penis
F*** yeah! Oh shit! Woah! Little Tommy Terror
Aye! Yeah baby! What? F*** you

Más abajo encontrarás canciones relacionadas con Wings On My Penis.
Puntuar 'Wings On My Penis'
¿Qué te parece esta canción?
-
0 votos
* Gracias a RickRack por haber añadido esta letra el 19/8/2018.
Comentar Letra
Comenta o pregunta lo que desees sobre Die Antwoord o 'Wings On My Penis'
Comentar
+ Die Antwoord
Canciones del Disco