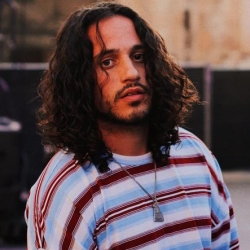 'Kill Them All' se estrenó el . Esta canción está incluida dentro del disco ZOO.
LETRA 'KILL THEM ALL'
Yeah. This beat is crazy, shout out to me. All you little fuckin', uh, D League, peasant, tier 98-ass rappers and little clickbait-ass journalists and shit, y'all can suck my dick. I never even met y'all man, y'all so fuckin' obsessed. I'm on some kill everybody shit, f*** y'all!
Yeah, I've been withholdin', I really feel like explodin'
People pokin', provokin', I'm suffocating, I'm chokin'
The feeling that no one gets it, I just try to suppress it
I really need to express it, I really should reinvest it and go off
Off, off on you bitches
I wonder why these fuckin' grown men always talkin' like bitches
Y'all so obsessed with me, I've never even talked to you bitches
I'd run you over with my Lambo, wouldn't stop for you bitches
I'm at my breaking point, I can wave and point
And you'll start breaking joints so loudly, exclamation point
Rappers takin' bribes, they be shavin' points
I see the game from every angle, I be playin' point
I be playin' coach, I be playin' owner
I be playin' fan, and I play promoter
Gettin' great exposure from all the hate, y'all are hustling backwards
This goes for anybody and any bum-ass rapper, pu***
Now you leave me no choice
I have to kill 'em all (kill 'em all)
Kill 'em all (kill 'em all)
Kill 'em all (kill 'em all)
Kill 'em all (kill 'em all)
Now you leave me no choice
I have to kill 'em all (kill 'em all)
Kill 'em all (kill 'em all)
Kill 'em all (kill 'em all)
Kill 'em all (kill 'em all)
Yeah
Any rapper can get it, I'm sending headshots, headshots
You can't talk to me if you can't sell out Red Rocks, Red Rocks
That's ten thousand, watch your mouth when you speak 'bout your superiors
Premeditated murder, I'm plottin' with my Nigerians (Yes, oh!)
Peekin' through you, chiefin' and eating fufu
We see what this dreamin' grew to, arenas in Honolulu
Doin' streams like I'm Hulu, label talks via Bluetooth
People tryna do voodoo, this zoo is making me coo-coo
And f*** the media and the politics in this industry
The snakes and the lies and the gossip in this industry
And f*** these WWE-ass rappers
High school mentality, glee-ass rappers
Fake family ties, y'all say brother too much
Y'all get played by the same women, y'all say you love her too much
And y'all be runnin' from the truth, y'all take cover too much
I'm gettin' tired of this shit, man, enough is enough
Now you leave me no choice
I have to kill 'em all (kill 'em all)
Kill 'em all (kill 'em all)
Kill 'em all (kill 'em all)
Kill 'em all (kill 'em all)
Now you leave me no choice
I have to kill 'em all (kill 'em all)
Kill 'em all (kill 'em all)
Kill 'em all (kill 'em all)
Kill 'em all (kill 'em all)
Yeah
Rappers dissin' for attention that the music ain't gettin'
I understand, it's frustratin' watching my rapper descent
Watching arenas sell out, watching my plaques multiply
When you don't headline a tour, and when you drop they don't buy
But you got followers though, but what they followin' for
But that's 'cause most of them are fake, let me let your followers know
That y'all be payin' social media agencies twenty thou' every month
Just to comment, like, and follow your account
It's all a front, y'all are glorified Instagram entertainers
Got millions of followers, but can't even sell out your basement
Y'all droppin' antics and skits 'cause you can't drop a hit
Flashin' jewelry, posting lean, poppin' Xanax for clicks
Infatuated with designer, costume shop carollers
Bunch of crackheads and clowns, bunch of Boondocks characters
Damn, y'all not scarin' us with your Internet loose lips
I be at the same festival and y'all don't do shit
Now you leave me no choice
I have to kill 'em all (kill 'em all)
Kill 'em all (kill 'em all)
Kill 'em all (kill 'em all)
Kill 'em all (kill 'em all)
Now you leave me no choice
I have to kill 'em all (kill 'em all)
Kill 'em all (kill 'em all)
Kill 'em all (kill 'em all)
Kill 'em all (kill 'em all)
Man, I don't even like that it's this easy to write whole songs and shit about this type of shit. Sometimes you just gotta get it off your chest though. I hope the fans understand that sometimes I really be tryna leave this shit, man. I miss my old shit sometimes. F*** it