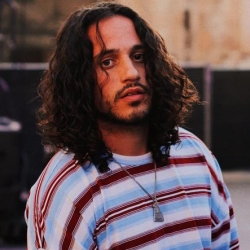 'Outlaw' se estrenó el . Esta canción está incluida dentro del disco ZOO.
LETRA 'OUTLAW'
Yeah, yeah
Yeah, yeah
Yeah, just copped a mansion and my parents a crib
Listening to doubt never worked for me but my arrogance did
They love to hate, they love to hate
How ironic, I know
She loves my long hair and my tattoos
How iconic, I know
Women pounce often and my sound poppin'
Y'all are clout hoppin', while i'm house shoppin'
You should make more moves and less announcements
I'm having sex with spouses
Watch me invest in counters, I got the best accountants
I'm looking at the aftermath upon my hours
Unfortunately, I barely take the time to smell my flowers
Used to move around a lot
Used to have to pack couches
Now I'm on the road playing shows for packed houses
Now I'm in Toronto smoking maple leaves
I got the catalog of branches outside of the label street
You can't label me, I made all my shots
But that was when the crowd was ghost
Now the world is watching me
Time to go repeat results
I'm the outlaw
I do my thing and talk my shit and run my mouth off
I never really ever gave a f*** about y'all
Got a lot of hits left like a southpaw
Without y'all
I been in the Dominican swimmin' in thick women with skin like cinnamon bitches 'til Tuesday
Don't you ever talk to me crazy, you still got roommates
Went platinum out a suitcase, y'all too fake, y'all debut came and went
And I'm throwing the
Ta-da, bitch I'm here, y'all pop up and disappear
I bump Bianca in Bahamas, I want 20 mill this year
What y'all know 'bout doin' sold out shows around the globe, I bring the hoes out
The come-up's documented, you should scroll down
And peep game
You can say he changed
'Cause he went in a [?], but he landed where he aimed
So, bump the chest you thumpin'
F*** the threats you published
I'm up in yo city and doing shows, address is public (Ah!)
Never listen to the churches
I listen to Kanye, Eminem, Nipsey, J. Cole, Kendrick, Drake and Jay-Z verses
Rappers the new sermon, rappers are the preachers
Rappers are the doctors and the teachers, the world leaders
C'mon!
I'm the outlaw
I do my thing and talk my shit and run my mouth off
I never really ever gave a f*** about y'all
Got a lot of hits left like a southpaw
Without y'all
People say I'm cocky, people say I'm arrogant
I think lack of confidence is very un-American
Miss me with comparisons
Y'all can't hold a candle to me, you gon' need more paraffin
Bunch of fuckin' zombies poppin' pills and sippin' heroin
Y'all are so embarrassin'
Got your wifey runnin' all her fingers through my hair again
Starin' in her soul, your bitch has no control
She's lookin' at my platinum plaques, your bitch ass still in gold
Hot globally, you hot locally
I'm noticing this game hasn't really noticed me
It's okay, I understand
I wasn't in your plan
They all gon' come around 'cause I'm the motherfuckin' man
I was right about what, I was wrong about when
I'm livin' right right now, 'cause I was right back then
I was right about what, I was wrong about when
I'm livin' right right now, 'cause I was right back then, bitch
I'm the outlaw
I do my thing and talk my shit and run my mouth off
I never really ever gave a f*** about y'all
Got a lot of hits left like a southpaw
Without y'all
I'm the outlaw
I do my thing and talk my shit and run my mouth off
I never really ever gave a f*** about y'all
Got a lot of hits left like a southpaw
Without y'all