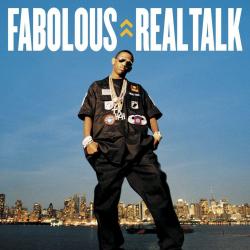 So Ghetto (Freestyle)
Fabolous
La canción 'So Ghetto (Freestyle)' se estrenó en 2004. Este tema está incluido dentro del disco Real Talk
Al final de la letra de la canción 'So Ghetto (Freestyle)' podrás puntuar su calidad, comentar sobre ella, acceder a más lyrics de Fabolous y a música relacionada.
LETRA
Back atcha
Yellow G, Clue
Brooklyn...
I spit that murda murda murda, that mur-mur-mur-murda shit
I spit that g-g-g, that g-g-g-gansta shit
I spit that Brook-Brook-Brook, that Br-Br-Br-Brooklyn shit
Ay, look
The streets talkin, they say I'm back lookin like me
I still got it, and ain't nobody took it from me
They sayin I'm nice, it's like I hit my prime twice
I'm not your cup of tea, I'm Patron, lime, ice
Mixed in a shaker, my style is like a chilled shot
Less burn, but I'm still hot
I charm your lady, then I strong arm your lady
Tell her deflate these balls one time for Brady
It's lines like that, make you rewind that back
I flip mine like crack, I'm trynna grind that back
You see, I've always been a hustla, cook it up for the customers
Kept workin the spot til it got muscular
Ya chick is a groupie, she could fit a tour bus in her
Matter fact, I heard she had the whole tour bus in her
You the type of sucka that fall in love and bust in her
When all it ever took was one spliff to bust a bust in her
Trustin her, thinkin that's your boo thing fam...
Now you know why she love the Wu-Tang Clan
She'd prolly f*** anything with a new chain, man
So imagine what she'd do to 2 Chainz, damn...
F*** it, time to pop the new swag off
I got the wave back, I took the doo rag off

Más abajo encontrarás canciones relacionadas con So Ghetto (Freestyle).
Puntuar 'So Ghetto (Freestyle)'
¿Qué te parece esta canción?
-
0 votos
* Gracias a voicemen por haber añadido esta letra el 8/10/2018.
Comentar Letra
Comenta o pregunta lo que desees sobre Fabolous o 'So Ghetto (Freestyle)'
Comentarios (3)
+ Fabolous
Canciones del Disco