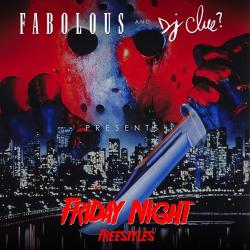 Sound Bwoy Bureill (Freestyle)
Fabolous
La canción 'Sound Bwoy Bureill (Freestyle)' se estrenó el . Este tema está incluido dentro del disco Friday Night Freestyles
Al final de la letra de la canción 'Sound Bwoy Bureill (Freestyle)' podrás puntuar su calidad, comentar sobre ella, acceder a más lyrics de Fabolous y a música relacionada.
LETRA
Bless
Okay see I'm living, like I'm back at KD crib and everything nice
Just like the AD libs, I seen Smif-n-Wessun
I was back in JD crib, was more excited seeing 50 pounds at AD crib
No disrespect to the Cocoa Brovaz
The fame is cool, but the money make me loco brother
See I'm smooth, but still shine like cocoa butter
And since "Breathe" I had the game in a chokehold brother
Yeah, rest in peace, shout to Eric Garner
You come at us, we coming back at you, I swear it's karma
I'll be back -- Terminator, Sarah Connor
The Ghost black, the leather seats is Ferragamo
The top chrome, I'm just a knight in shining armor
As soon as it get late I'm tryna find a yawner
A shawty with her mouth wide, let her do the honors
You might see me in the field, tryna do my farmer
Looking for a ho, just being a gardener
In the club I play spades, just me and my partner
Y'all reneging, ya'll be playing it wrong
Overbiddin', ya'll ain't got what you say in them songs
So it's us against them, from now and going forward
The homie said he got the four, I guess we're going bored
I call it like I see it, I never do possibles
I dodged a few bullets, got over some obstacles
Bailed out of jails, checked out of hospitals
I was in the house for dope, now I'm in the House of Blues
Rest in Peace to Dae-Dae
I'm money on Fridays, the freestyles is payday
When it drop, Mayday, another murder verse
I can't stop the wave, all you can do is learn to surf
Some of these fuckboys need a lesson on manners
Talking about your baby, joking on Nana
They wouldn't say jack when I was holdin' on hammers
Flippin' white squares, I'm talkin' blonde Vanna
Stack bundles of the Montana
We miss Stacks, shout out to Montana
Rest in peace to Chinx
We used to dead you on your chain, rest in peace your link
Or mix it with the soda, not the recipe for drink
I mean the recipe for white, not the recipe for pink, uh
RIP Pimp C, top dollar and bottom bitches all a pimp see
Salute the Underground Kingz, you're gone but not forgotten
I feel ya'll niggas watchin'
Listen, the bargainin's outta the question
Niggas inquirin' about robbin' me, that's not a suggestion
Only thing they ever took from me was advice
Cool as I'm is, you don't need no ice
The Rollie clean, gold plated
With Goldie around, all the hoes hated
Cause his mack game serious
Disrespectful like Eddie Murphy in Delirious
You can tell I'm gettin' money
Cause nowadays even my corny jokes is funny
Bitches keep smilin' even when you insult 'em
Cause the kid keep stylin' like Groovey Lew helped 'em
I gave 'em a reason to be hatin' 'em
Copped the whole Dungaree table in the Atrium
Red monkey, all blue bloodin' 'em
Ed Hardy, short-sleeved, rhinestone stuntin' 'em
Niggas actin' like they ain't respectin' my name
A polo rockstar wild it out and choke 'em with the chain
They say violence ain't never solve nothin'
But a asshole is runnin' around frontin'
And I'm backin', you do the math
You don't deserve a whole clip, I leave you with half
Rest in peace to all the fallen soldiers
Light one up for 'em
Pour something up for 'em
I see you King
We miss you niggas man...

Más abajo encontrarás canciones relacionadas con Sound Bwoy Bureill (Freestyle).
Puntuar 'Sound Bwoy Bureill (Freestyle)'
¿Qué te parece esta canción?
-
0 votos
* Gracias a voicemen por haber añadido esta letra el 8/10/2018.
Comentar Letra
Comenta o pregunta lo que desees sobre Fabolous o 'Sound Bwoy Bureill (Freestyle)'
Comentarios (3)
+ Fabolous
Canciones del Disco