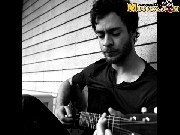 'Little Light' se estrenó el . Esta canción está incluida dentro del disco My New Moon.
LETRA LITTLE LIGHT
Some days I can't get myself out the box
Some days I can't find the keys to any locks
Some days I feel like it's all overblown
And then I look at you and I don't feel so alone
And I say...
Hey, let your little light shine
Let your little light shine for the world to see
Hey, let your little light shine
Let your little light shine for the world to see
Some days I can't get myself out the waste
And all that cold wind blows right in my face
Some days I feel like I'm against the wall
But then I look at you standin' strong and tall against it all
Hey, let your little light shine
Let your little light shine for the world to see
Hey, let your little light shine
Let your little light shine for the world to see
Now I'm gonna keep on lookin' for the stars in the sky
I'm gonna keep on lookin' for the stars yeah, oh-oh-oh
Hey, let your little light shine
Let your little light shine for the world to see
Hey, let your little light shine
Let your little light shine for the world to see
Hey, let your little light shine
Let your little light shine for the world to see
Hey, let your little light shine
Let your little light shine for the world to see

Apoyar a Amos Lee
Amos Lee no está entre los 500 artistas más apoyados y visitados de esta semana.

¿Apoyar a Amos Lee?

Ranking SemanalMedallero