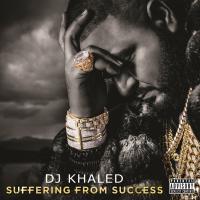 Suffering From Success
Letra y Canción
Añadir a Favoritas
Guardar en Playlist
SUFFERING FROM SUCCESS es una canción de DJ Khaled que se estrenó el , este tema está incluido dentro del disco Suffering from Success.
LETRA
'Suffering From Success'
The price of fame (shit real)
F*** fame (man f*** this shit)
F*** the game (Young Chop on the beat!)
DJ Khaled!
Got too many racks on me
I can't even go to sleep
Just to get em out V.I.P
I'mma need to see I.D. (I don't trust you)
I'm sufferin' (I'm suf-suf-sufferin)
(I'm suf-suf-sufferin, I'm suf-suf-sufferin)
I'm sufferin' from success (I'm suf-suf-sufferin)
(I'm suf-suf-sufferin, I'm suf-suf-sufferin)
I'm sufferin' from success
Ace Hood!
I worked so hard, this the intro
Chea, look
F*** this money ni***, f*** this chain
F*** my watch, you can have that ring
Keep my whips, you can have that fame
So stressed out, I'm going insane
Young ni*** can't even sleep at night
All this money I done seen in life
More cash bring more haters
F*** around and went and bought a chopper twice
Cause I'm paranoid, and I bury boy
If he playin' with mine, then it's oh lord
Please don't make a ni*** do that
Please don't make a ni*** do that
You dont' know what the f*** I been through
Plus my lawyer texting me too
Boy my baby momma be trippin'
Talking bout child support, I can't do it
I don't trust nobody but God
All these foreign's parked in my yard
Swear last night I swimmed in that money
Then woke up in a million dollar car
Boy I'm too stressed, so blessed
Please somebody pray for me
I'm suffering from success, Lord have mercy
Got too many racks on me
I can't even go to sleep
Just to get em out V.I.P
I'mma need to see I.D. (I don't trust you)
I'm sufferin' (I'm suf-suf-sufferin)
(I'm suf-suf-sufferin, I'm suf-suf-sufferin)
I'm sufferin' from success (I'm suf-suf-sufferin)
(I'm suf-suf-sufferin, I'm suf-suf-sufferin)
I'm sufferin' from success
My momma told me when I was a little bity boy
I was blessed, frustrated
Nigga f*** this car, f*** these hoes
F*** these millions, f*** your feelings
I'm sufferin, I'm sufferin
F*** this house, f*** this condo
F*** these models, f*** these bottles
I'm sufferin', I'm sufferin'
Got too many racks on me
I can't even go to sleep
Just to get em out V.I.P
I'mma need to see I.D. (I don't trust you)
I'm sufferin' (I'm suf-suf-sufferin)
(I'm suf-suf-sufferin, I'm suf-suf-sufferin)
I'm sufferin' from success (I'm suf-suf-sufferin)
(I'm suf-suf-sufferin, I'm suf-suf-sufferin)
I'm sufferin' from success
My momma told me when I was a little bity boy
I was blessed, frustrated